Discussion: Hawkeye #1 – 6 From Marvel
…what he does when he's not being an avenger, bro.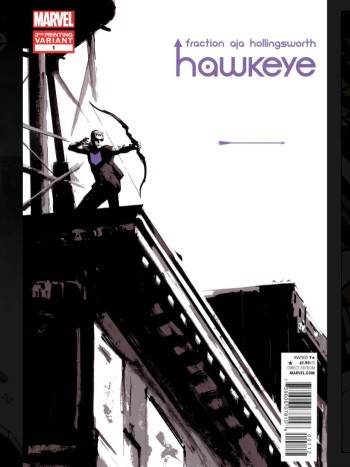 Writer: Matt Fraction
Pencils: David Aja
Colorist: Matt Hollingsworth
Cover Art: David Aja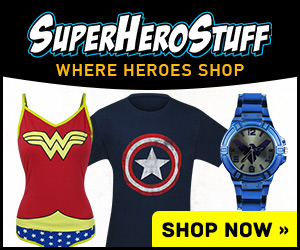 Publisher: Marvel
Cover Price: $2.99
What you may (or may not) already know about your friendly neighborhood jman is that if I don't like the artwork on any particular book, it makes it that much harder for me to read. In fact, I'll stop reading a book mid way because of the change in art. I don t know how (or why) I got so fickle, but there it is. Judge me accordingly.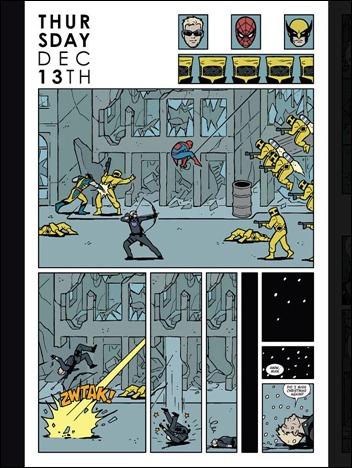 Ok. The video game look to this is funny
The thing is, I don't believe I fit into anyone school of art. I like the stylized realism of Jim Lee. But, I also like the cartoon-y stylings of Ed McGuiness. Then there's the Americanized Manga of Humberto Ramos that does it for me, as well. I'm telling you…I'm across the board.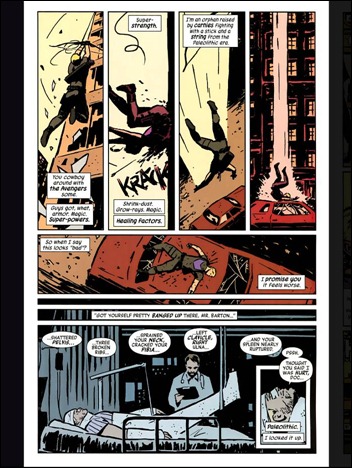 Page 2 of book 1. Man! I was so close to giving up on this book.
But, not liking the artwork is the EXACT reason why I passed on Hawkeye, for so long. I wasn't the least bit crazy about the detail-less blobs of meh-ness throughout the book. Coupled with the fact that up until the movie The Avengers last year, Hawkeye wasn't even a blip on my radar screen, I just didn't care that much about him or the book.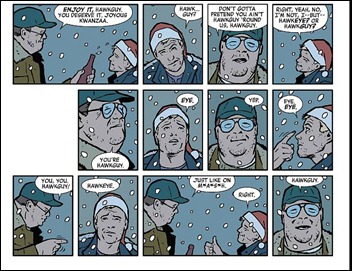 Hawkguy?!?!?
Over the last couple months, though, I kept seeing this Hawkguy book at my local comic shop, like, out of the corner of my eye. I'd walk up to the newest issue, thumb it and promptly put it back. Bleeeeh. I don't even know what the final straw was for me. If I had to take an educated guess, I'd have to say it was probably Jeremy Renner's kick ass portrayal of Clint in the movie, that pushed me over the edge. So, when the 2nd printing (and, for real, how many books these days get second printings?!?!?) of issue one was on the shelf, I picked it up.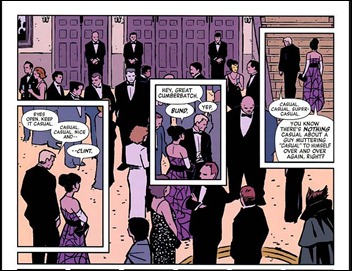 "Cumberbatch" lmao!!!
Yup. I once again took the 3 dollar comic book gamble. And it paid off (for once). It's a great flippin book! It's fun. It's funny. It's random. It's serious. It's dramatic. It's a really good book. And, even the "art" has grown on me.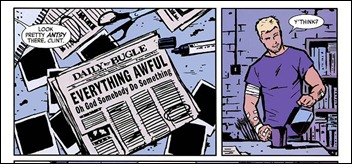 "oh god somebody do something!" I don't think I could write this any better.
Let's just hope Marvel, in it's infinite wisdom, doesn't decide to destroy the book and keeps this creative team together for more than a few issues.
by Jesse
the Container of Useless Accessories
this is what it sounds like, when doves cry…