A Hero Most Fowl –
Your First Look at
DEADPOOL THE DUCK #1!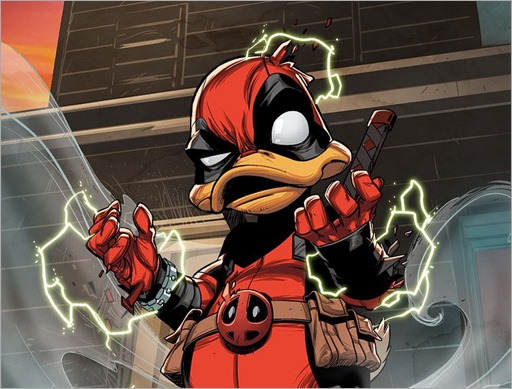 Marvel's Mallard with the Mouth Lands this January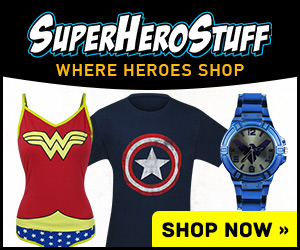 Here's your first look at 4 pages from Deadpool The Duck #1 by writer Stuart Moore and artist Jacopo Camagni, on sale January 4th, 2017 from Marvel Comics.
Press Release
What do you get when you take one cynical anthropomorphic duck (named Howard) and cross it with the smelliest (and most annoying) mercenary in the Marvel Universe? DEADPOOL THE DUCK #1! Coming to comic shops and digital devices everywhere on January 4th, its high-stakes avian antics as two of Marvel's most beloved, and crass, heroes merge for an all-new series brought to you by Stuart Moore (CLOAK & DAGGER, THANOS: DEATH SENTENCE Novel) and Jacopo Camagni (DEADPOOL's SECRET SECRET WARS).
When Deadpool is sent on a mission from S.H.I.E.L.D. to capture a high-profile E.T. that is rampaging across the high plains, the snatch-and-grab turns out to be much more complicated than the Merc with a Mouth anticipated. One unfortunate wrong place at the wrong time accident later leaves Deadpool and Howard fighting for control as the newest mercenary of the Marvel Universe!
So strap in, break out your chimichangas and crusty bread scraps and hang on! Because you're in for: rabid raccoons, secret laboratories, cramped spaceships, evil corporations, gastric distress, and S.H.I.E.L.D. Did we mention that's only issue one?! Flap your wings over to your local comic shop on January 4th to get your hands on DEADPOOL THE DUCK #1!
DEADPOOL THE DUCK #1 (of 5) (NOV160829)
Written by STUART MOORE
Art by JACOPO CAMAGNI
Covers by DAVID NAKAYAMA
Variant Covers by RAFAEL ALBUQUERQUE (NOV160830), RON LIM (NOV160833) and CHIP ZDARSKY (NOV160831)
Connecting Variant A by DAVE JOHNSON (NOV160832)
FOC – 12/05/16, On-Sale – 01/04/17