BOOM! STUDIOS RETURNS TO SAN DIEGO COMIC-CON FOR ITS NINTH STRAIGHT YEAR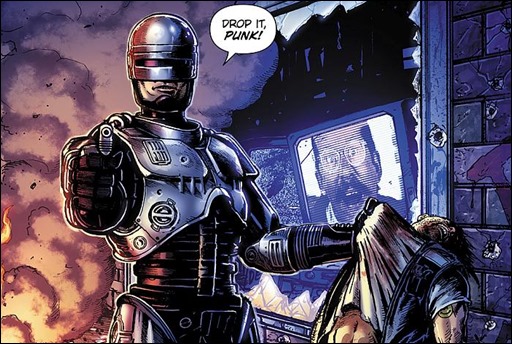 If you're attending San Diego Comic-Con 2014 this summer, here are the announced signings and exclusive item variants available from BOOM! Studios at the show!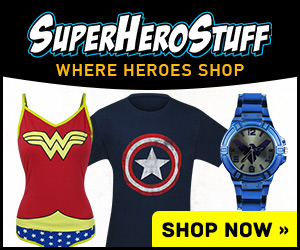 Press Release
Award-winning comic book publisher BOOM! Studios and its imprints, KaBOOM!, BOOM! Box, and Archaia, announced today it will return to exhibit at Comic-Con International in San Diego (San Diego Comic-Con, as it's commonly called, or SDCC), to be held at the San Diego Convention Center in San Diego, California July 23-27, 2014.
BOOM! and its imprints can be found at Booth #2229 on the show floor and will host an army of creators for signings. Scheduled to appear are:
Bob Scott (PEANUTS)
Chris Miskiewicz (THOMAS ALSOP)
Christopher Sebela (DEAD LETTERS)
Collin Kelly (HACKTIVIST)
David Petersen (MOUSE GUARD)
Elena Casagrande (SUICIDE RISK)
Eric Powell (BIG TROUBLE IN LITTLE CHINA)
Frank Barbiere (BLACK MARKET)
Frank Gibson (THE AMAZING WORLD OF GUMBALL)
Grace Ellis (LUMBERJANES)
Ian Herring (HACKTIVIST)
Jackson Lanzing (HACKTIVIST)
James Tynion IV (THE WOODS)
Jeff Stokely (TRANSLUCID)
Jeremy Sorese (STEVEN UNIVERSE)
Joshua Williamson (ROBOCOP)
Max Bemis (EVIL EMPIRE, POLARITY)
Marcus To (HACKTIVIST)
Megan Hutchison (AN AURORA GRIMEON STORY: WILL O' THE WISP)
Michael Alan Nelson (DAY MEN, 28 DAYS LATER, PROTOCOL: ORPHANS)
Natasha Allegri (BEE AND PUPPYCAT, ADVENTURE TIME WITH FIONNA AND CAKE)
Noelle Stevenson (LUMBERJANES)
Palle Schmidt (THOMAS ALSOP)
Paul Jenkins (DEATHMATCH, FAIRY QUEST)
Royden Lepp (RUST)
Shannon Watters (LUMBERJANES)
Tyson Hesse (THE AMAZING WORLD OF GUMBALL)
Vanesa R. Del Rey (THE EMPTY MAN, HIT)
Vicki Scott (PEANUTS)
There will also be a few surprise guests throughout the show. A signing schedule will be released before the start of SDCC.
In addition, the BOOM! Studios booth will host sketch artists all weekend, including:
Coleman Engle (STEVEN UNIVERSE, BEE AND PUPPYCAT)
Ian McGinty (ADVENTURE TIME: CANDY CAPERS, BRAVEST WARRIORS)
Jen Bennett  (ADVENTURE TIME 2013 SPOOOKTACULAR, ADVENTURE TIME: MARCELINE AND THE SCREAM QUEENS)
MAD Rupert (REGULAR SHOW: SKIPS, ADVENTURE TIME: BANANA GUARD ACADEMY)
Travis Hill (ADVENTURE TIME)
For $30, fans can request and purchase custom sketches to be drawn on blank Get-A-Sketch covers.
BOOM! will have a wide selection of exclusive variants available for purchase at its booth (while supplies last), including:
ADVENTURE TIME: BANANA GUARD ACADEMY #1
$10, limited to 500 copies
Cover by Coleman Engle
Writer: Kent Osborne
Artist: Mad Rupert
Not only are the Banana Guards hilarious as the Candy Kingdom's protectors, but this series is written by Kent Osborne, one of the longtime writers of the ADVENTURE TIME show. Turns out that there is a lot to being a Banana Guard—but being a Banana is not mandatory. This crazy adventure follows Root Beer Guy as he starts his search for new recruits among Ooo's citizens. Only the best will do in his quest to protect the Candy Kingdom!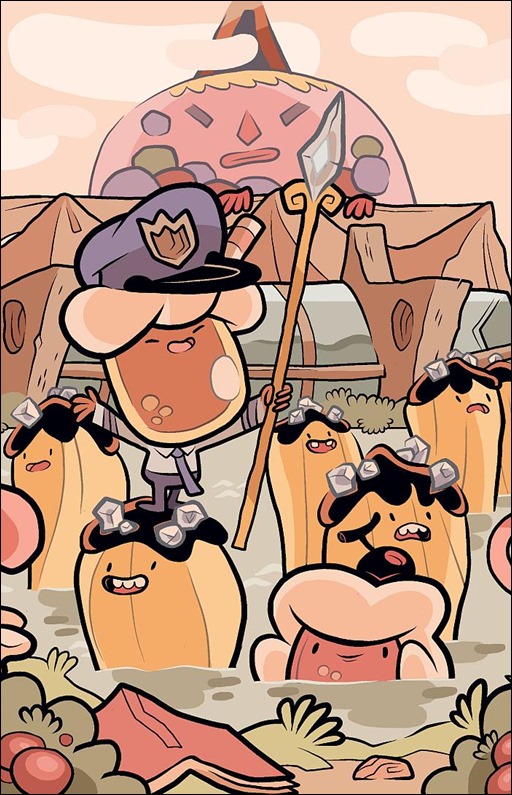 ---
THE AMAZING WORLD OF GUMBALL #1
10, limited to 500 copies
Cover by Coleman Engle
Writer: Frank Gibson
Artist: Tyson Hesse
Gumball, Darwin, and all of their friends take on the world of comics! Gumball thinks he's the coolest kid on the block, but his little sister Anais begs to differ, and Darwin just wants to keep them all out of trouble. There's always another adventure to be had in their mixed-up world!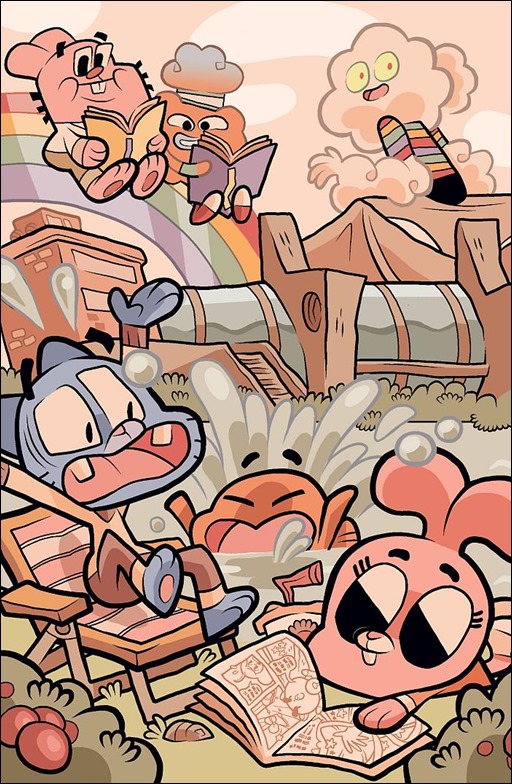 ---
REGULAR SHOW #13
$10, limited to 500 copies
Cover by Coleman Engle
Writer: Minty Lewis
Artist: Allison Strejlau
If you're a fan of REGULAR SHOW, then this is definitely something you don't want to miss: storyboard artist and the voice for Eileen, Minty Lewis, will be writing this issue. And if you haven't seen the show, who better to show you around the Park? Mordecai and Rigby are put in charge of decorating the park for the annual park party and it's the only job Benson is sure they can't screw up. A small fire, three missing children, and a crashed blimp later, things are only going to get worse and the party hasn't even started yet.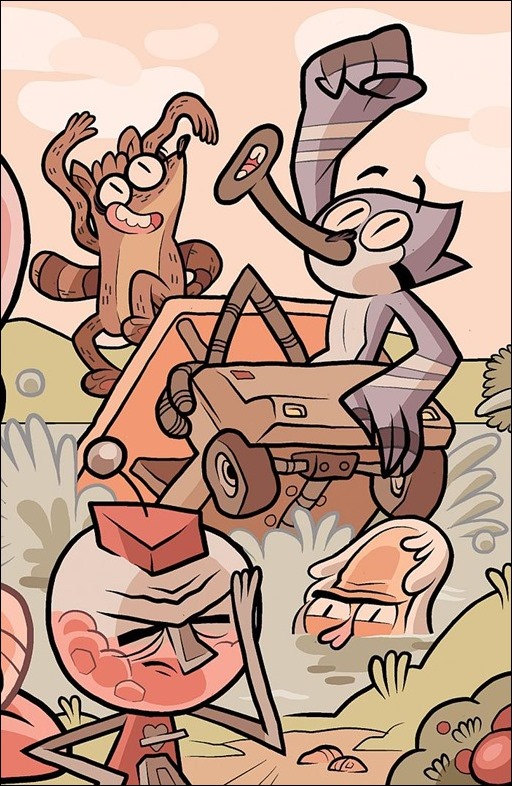 ---
STEVEN UNIVERSE #1
$10, limited to 500 copies
Cover by Coleman Engle
Writer: Jeremy Sorese
Artist: Coleman Engle
Steven really wants to enter the annual Beach City Bike Race but everyone else is a little worried. Steven just makes the cut-off for age, which means the other bikers will be a lot older than him. Connie agrees to help Steven the old-fashioned way through good ol' exercise but Garnet, Amethyst and Pearl have other plans…


All four of the above covers connect to form one image!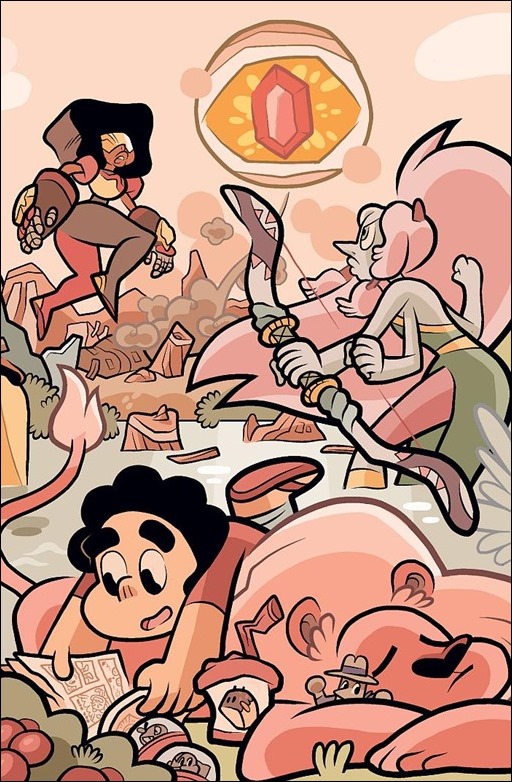 ---
BEE AND PUPPYCAT #1
$10, limited to 500 copies
Cover by Jeremy Sorese
Writers: Natasha Allegri, Garrett Jackson
Artist: Natasha Allegri
It's a quirky new take on the magical girl genre with Bee, the forever unemployed main character who can't seem to figure out life, and the mysterious PuppyCat, a stray…whatever it is…that she stumbled across who has a powerful secret. Fighting bad guys has never been so funny.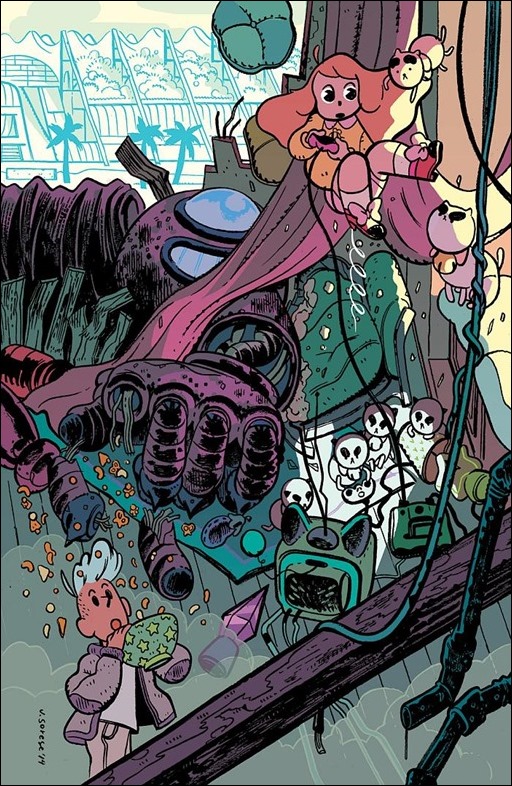 ---
BRAVEST WARRIORS 2014 IMPOSSIBEAR SPECIAL
$10, limited to 500 copies
Cover by Jeremy Sorese
Writers: Kevin Panetta, Nikki Mannino, Jeremy Sorese, Kevin Church, Kat Leyh
Artists: Paulina Ganucheau, Nikki Mannino, Jeremy Sorese, Jess Fink, Kat Leyh
If there is one sassy fur ball in BRAVEST WARRIORS that deserves it's own comic dedicated to how awesome he is, it's Impossibear.  Impossibear and Catbug are up to no good with the Bravest Warriors off on a mission! But have no fear, there are plenty of shenanigans to be had!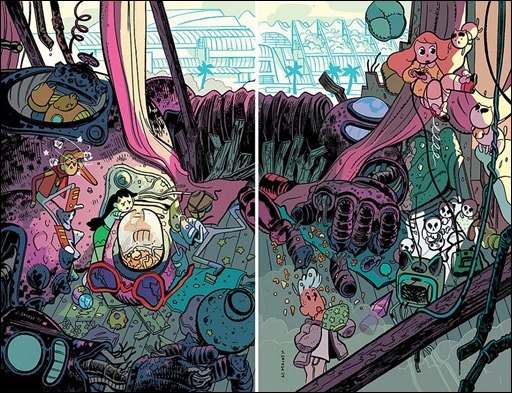 The BEE AND PUPPYCAT and BRAVEST WARRIORS covers connect to form one image!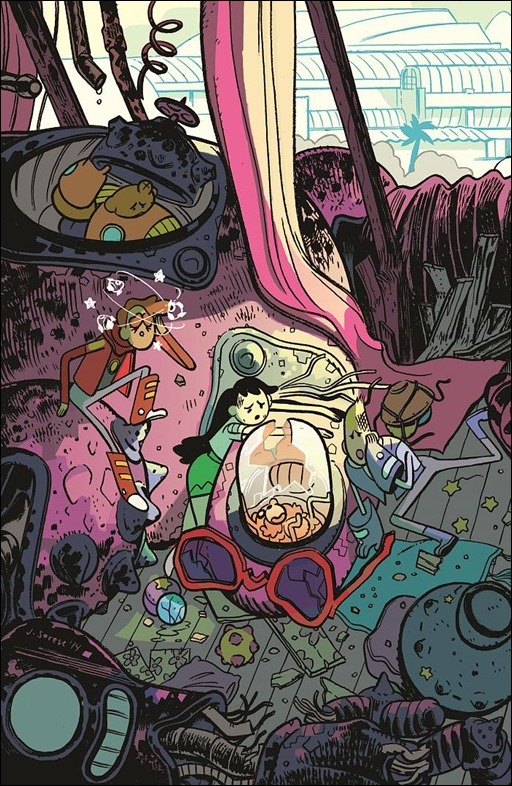 ---
ADVENTURE TIME: MARCELINE AND THE SCREAM QUEENS MATHEMATICAL HC
$50, limited to 250 copies
Cover by Tessa Stone
Writer: Meredith Gran
Artist: Meredith Gran
Thanks to a newfound interest in rock 'n' roll, Princess Bubblegum volunteers to manage Marceline's paranormal rock band for a pivotal tour across the land of Ooo! But when the band is threatened by everything from snobby scenesters to beasts born of self-doubt, can they hold it together and make it to the RADDEST GIG EVER in time, and manage to stay friends throughout the process?! Written and illustrated by award-winning cartoonist Meredith Gran (OCTOPUS PIE) and featuring short stories from several indie comics superstars, including Jen Wang (KOKO BE GOOD) and FRIENDS WITH BOYS cartoonist Faith Erin Hicks! This totally mathematical hardcover edition features never-before-seen extras, including an inside look at the making of MARCELINE AND THE SCREAM QUEENS!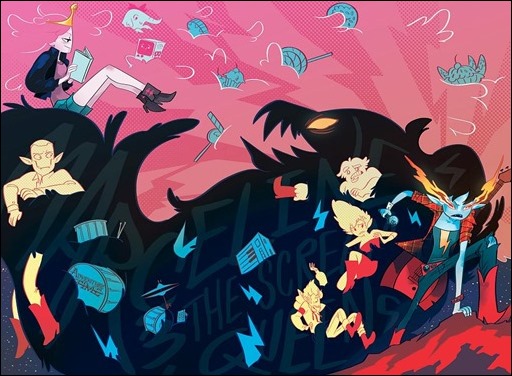 ---
ADVENTURE TIME: EYE CANDY VOL. 1 ENCHIRIDION HC
$50, limited to 500 copies
Cover by Zack Sterling
Artists: Various
Debuting at San Diego Comic-Con! Be the envy of all of your fellow Adventure Time fans with this breathtaking collection of all of the stunning ADVENTURE TIME cover artwork featured in issues #1-16. Now there's one spot where art fans and ADVENTURE TIME fans alike can see every cover image produced to date in this stunning, oversized hardcover cover gallery! In addition to showcasing each breathtaking cover image, this volume also includes process pieces showing how an ADVENTURE TIME cover is created. Don't miss out on this must-have for every ADVENTURE TIME fan!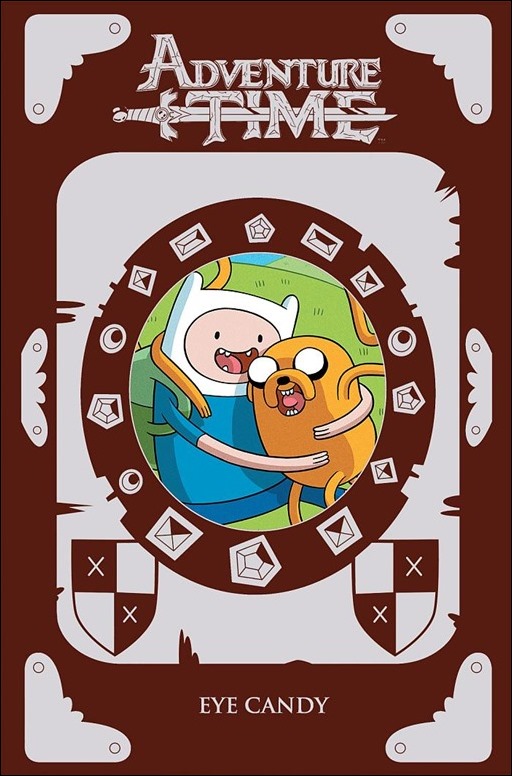 ---
THE AMAZING WORLD OF GUMBALL: THE TASKS MINI-COMIC
$30, limited to 550 copies
Cover by Jon Chad
Writer: Jon Chad
Artist: Jon Chad
After 2012's Adventure Time and last year's Regular Show mini-comics, Jon Chad has set his sights on The Amazing World of Gumball. In this spectacular fold-out mini-comic, Gumball and Darwin take on the world of video games. Plus, it comes packaged in a one-of-a-kind video game cartridge!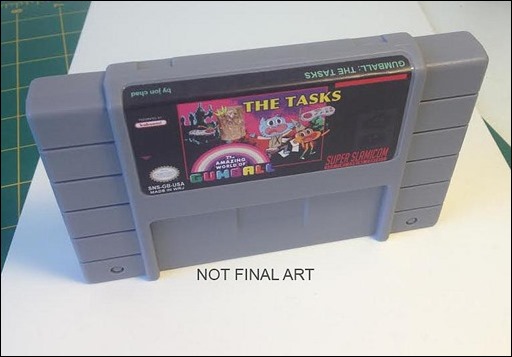 ---
BIG TROUBLE IN LITTLE CHINA #1
$10, limited to 500 copies
Cover by Adam Hughes
Writers: John Carpenter, Eric Powell
Artist: Brian Churilla
This is the first time any new BIG TROUBLE stories have been officially told, and we have the film's original director, John Carpenter, working with Eric Powell (THE GOON) on the story. Jack Burton, a macho, truck-driving adventurer, finds a stowaway hiding on  his rig, The Pork Chop Express, but that soon becomes the least of his troubles. He helped his best friend Wang save his fiancée from the clutches of a demon, but now the wedding has been invaded by more evil forces with one thing on their minds—revenge against Jack Burton!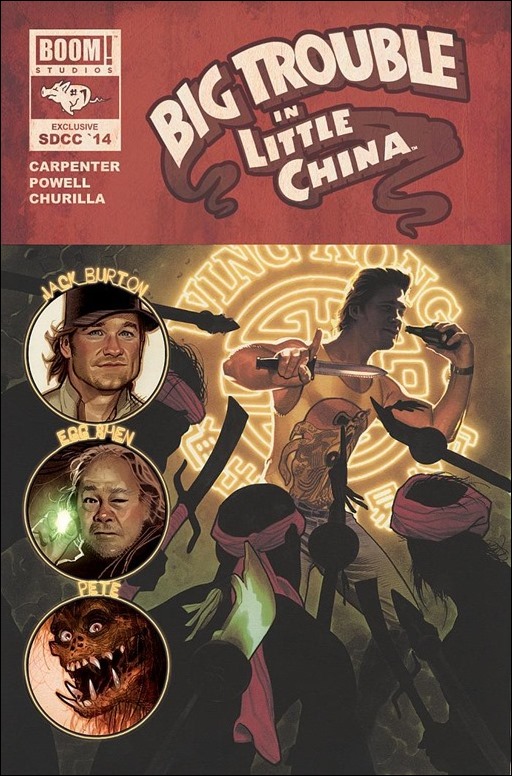 ---
DAWN OF THE PLANET APES: CONTAGION
$5, Convention Exclusive
Cover by Garry Brown
Writer: Caleb Monroe
Artist: Tom Derenick
Set directly after the events of 20th Century Fox's Rise of the Planet of the Apes film, DAWN OF THE PLANET OF THE APES: CONTAGION follows the story of Ellie (played by Keri Russell in the new Dawn of the Planet of the Apes film) as she struggles to find a cure for the pandemic before it claims her daughter forever. In this self-contained, one-shot issue, we see a slice of the descent of mankind as they succumb to the Simian Flu pandemic from the perspective of the CDC and various doctors and scientists trying to stop the outbreak.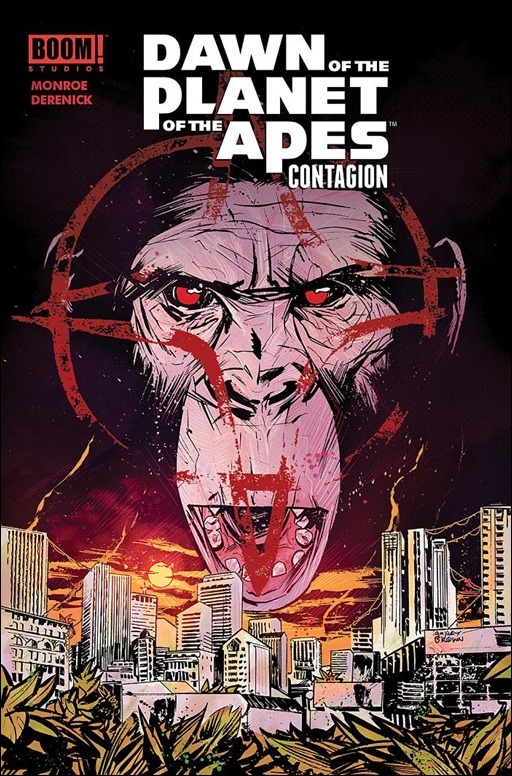 ---
THE EMPTY MAN #1
$10, limited to 500 copies
Cover by Vanesa R. Del Rey
Writer: Cullen Bunn
Artist: Vanesa R. Del Rey
It's been one year since the first reported case of the Empty Man disease, and no drug has been able to slow its progress. The cause is unknown, and the symptoms include fits of rage, hideous hallucinations, suicidal dementia, followed by death, or a near lifeless, "empty" state of catatonia. As murder cults rise nationwide, the FBI and CDC enter a  joint investigation of the Empty Man, hoping to piece together clues to stop the cult and uncover a cure.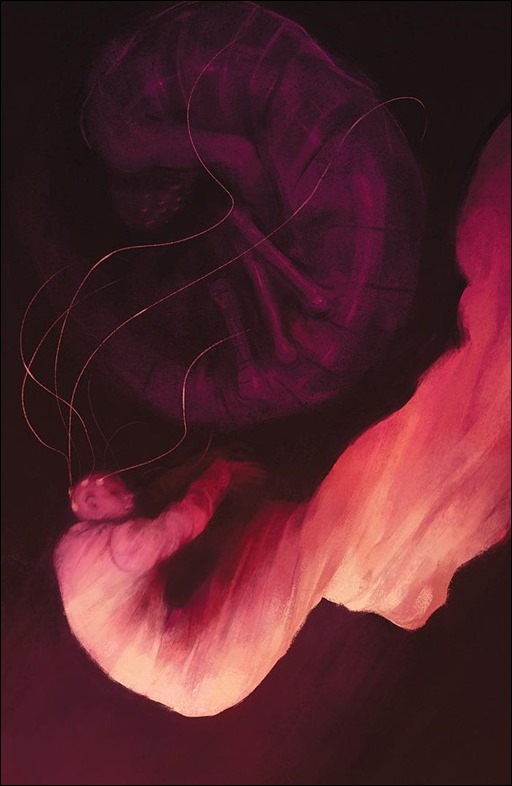 ---
HACKTIVIST HC SDCC EXCLUSIVE BOOKPLATE EDITION
Free with purchase of HACKTIVIST hardcover, limited to 200 copies
Bookplate illustration by Marcus To and Ian Herring
Writers: Jackson Lanzing, Collin Kelly
Artists: Marcus To, Ian Herring
The convention debut of Archaia's HACKTIVIST collected hardcover features an exclusive San Diego Comic-Con tip-in bookplate signed by the creator of the title, actress Alyssa Milano. This is a story about friendship and freedom in a time of war, stunningly illustrated by fan-favorite artist Marcus To (CYBORG 009, New Warriors, Red Robin) and Eisner Award-nominated colorist Ian Herring (JIM HENSON'S TALE OF SAND, CYBORG 009, Ms. Marvel). Ed Hiccox and Nate Graft are the young, brilliant co-founders of YourLife, a social networking company that has changed the way the world connects with each other. But they are also "sve_Urs3lf," the largest black-hat hacking group on the planet. When their operation is discovered by the U.S. Government, and their company is taken over by military contracts and the CIA, Ed and Nate must face the real world beyond the code and choose between friendship and what they believe to be right.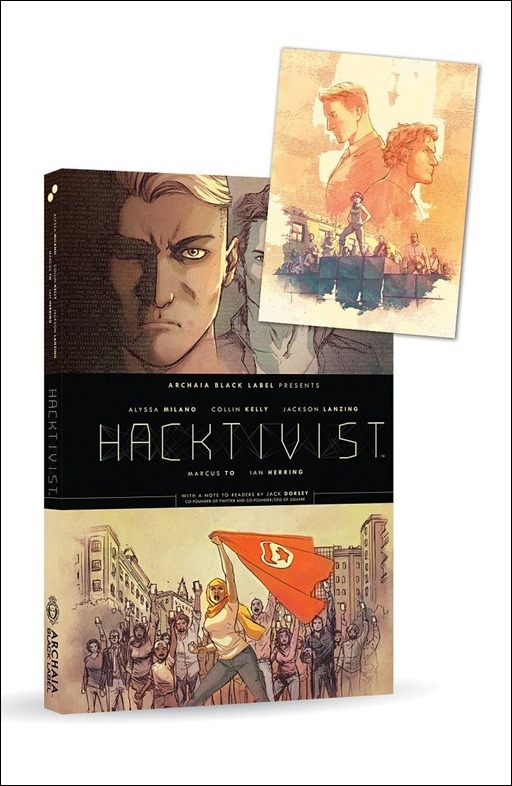 ---
JIM HENSON'S THE MUSICAL MONSTERS OF TURKEY HOLLOW PREVIEW
$15, limited to 500 copies
Cover by Roger Langridge
Writers: Jim Henson, Jerry Juhl, Roger Langridge
Artist: Roger Langridge
An exclusive look at the Lost Television Special from Jim Henson and Jerry Juhl, adapted by Eisner Award-winner Roger Langridge. Featuring 20 oversized pages from the upcoming original graphic novel, photos of the original puppets from The Jim Henson Archives, and character designs by Roger Langridge and Ian Herring.
Turkey Hollow is a picturesque town where hundreds of years ago, unbeknownst to the citizens, a meteorite landed near a small brook on the outskirts of town. One Thanksgiving, while young Timmy Henderson practices his guitar, he's accompanied by strange, unearthly, musical sounds. That meteorite wasn't a rock at all but an egg holding seven furry, goofy monsters, each with a unique musical sound! After the initial shock, Timmy befriends the lovable creatures, who follow him all around Turkey Hollow. Not everyone takes a liking to the visitors, though, and it's up to Timmy to protect his new friends and save Thanksgiving!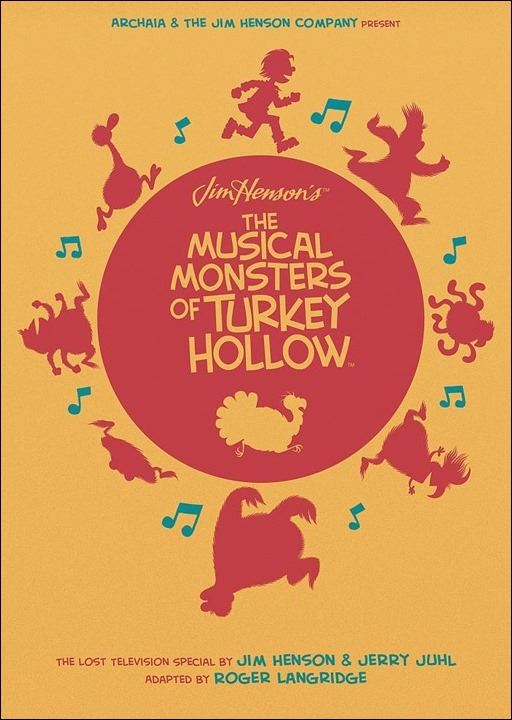 ---
LUMBERJANES #4
$10, limited to 500 copies
Cover by Noelle Stevenson
Writers: Noelle Stevenson, Grace Ellis
Artist: Brooke Allen
After a lot of convincing, the girls are able to agree to get Jen to take them on a hike. Making their way up to the tower and hoping to finally get some answers, they make their way closer only to be stopped by the neighboring boy camp! April, Mal, Molly, Jo, and Ripley have to figure out how to get to the tower, even if they have to use Jen as a distraction to do it.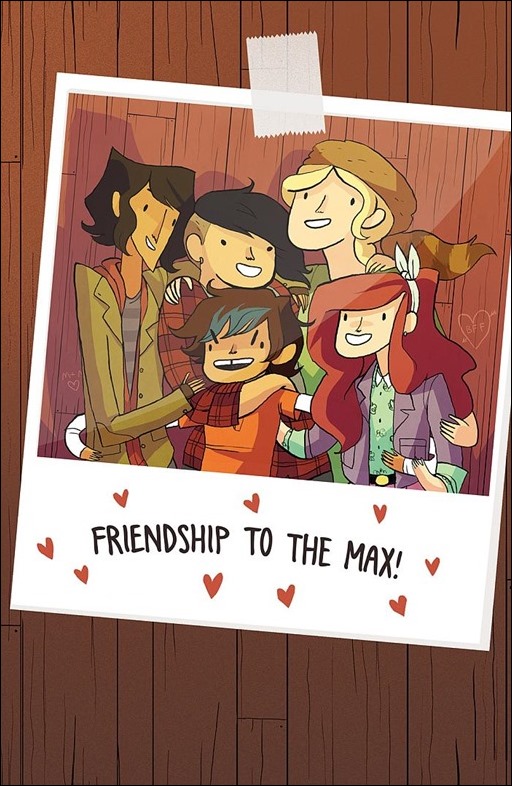 ---
PEANUTS #19
$10, limited to 500 copies
Cover by Charles M. Schulz
Writers: Charles Schulz, Andy Beall, Vicki Scott, Bob Scott
Artists: Charles Schulz, Paige Braddock, Vicki Scott
After years without contact, Snoopy begins the journey of a lifetime, travelling through Kansas City in search of his beloved sister, Belle. "Finding Belle" and many more adventures await you within this month's issue of PEANUTS. This features the debut of Belle, Snoopy's sister, in the KaBOOM! comics, both on the cover and in the issue.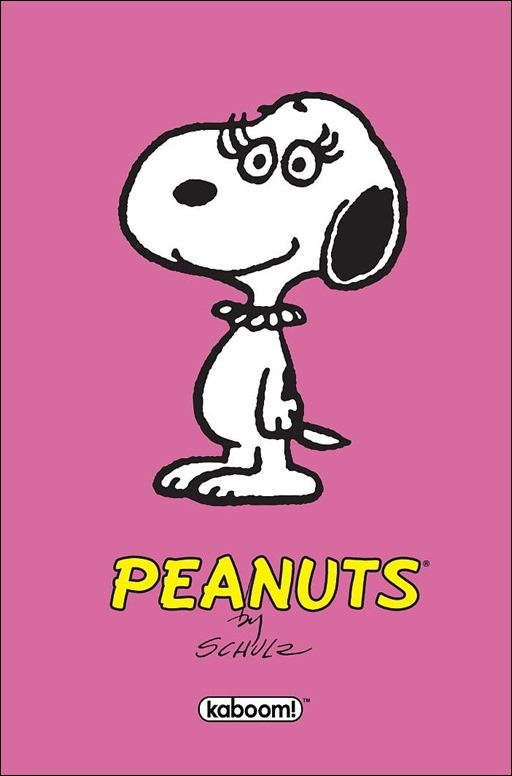 ---
ROBOCOP #1
$10, limited to 500 copies
Cover by Darick Robertson (with colors by Diego Rodriguez)
Writer: Joshua Williamson
Artist: Carlos Magno
A deadly and charismatic criminal, Killian, is released from jail. He went into the slammer before RoboCop hit the streets. Now he wants to take out the biggest cop in the city. When OCP wants to take guns off the street, Killian sees it as his opportunity to take on the former Alex Murphy!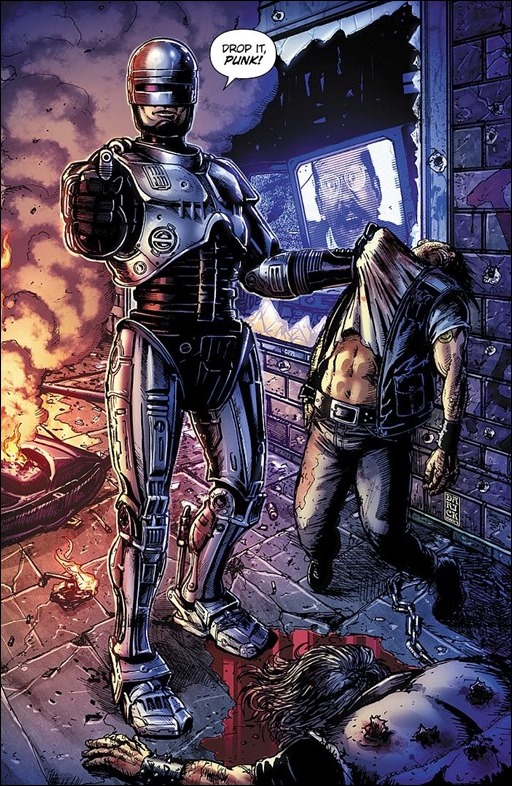 ---
SIX-GUN GORILLA HARDCOVER
$30, limited to 250 copies
Cover by Chris Weston
Writer: Simon Spurrier
Artist: Jeff Stokely
The hardcover edition of the SIX-GUN GORILLA is available only at the BOOM! Studios booth at conventions. Limited to 250 copies, this edition includes 16 extra pages of backmatter bound in a gorgeous burgundy leatherette with a foil-stamped cover and all-new cover art from Chris Weston. Welcome to "the Blister," a bizarre other-world colonized by humans sometime in the 22nd century, which quickly became a hotly contested source of fertile land and natural resources long ago exhausted on Earth. In this new frontier, a rogue gunslinger and his companion wander across a wilderness in the grips of a civil war, encountering lawlessness, natives, and perversions of civilization in a world at the crossroads between the past and the future. The fact that said gunslinger is a bio-surgically modified silverback gorilla toting a pair of enormous revolvers is neither here nor there…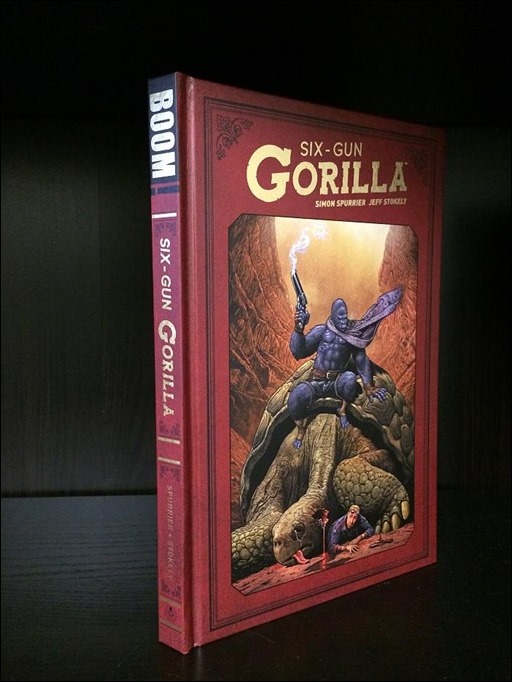 ---
TEEN DOG ZINE
Free with $10 purchase of BOOM! Box titles
Cover by Jake Lawrence
Writer: Jake Lawrence
Artist: Jake Lawrence
BOOM! Box's newest series, TEEN DOG, launches in September, but you can get your first look here in this eight-page, black-and-white preview zine. It's free with a $10 or more purchase of BOOM! Box titles, including MIDAS FLESH and LUMBERJANES. Skateboards, football games, prom…your teenage years have got nothin' on the raddest dude that's ever graced a denim vest. Written and illustrated by Jake Lawrence (Time Cowboy), join Teen Dog and his best friend Mariella as they tackle typical teen life with a manic twist. Growing up is an adventure, and you might as well rock it!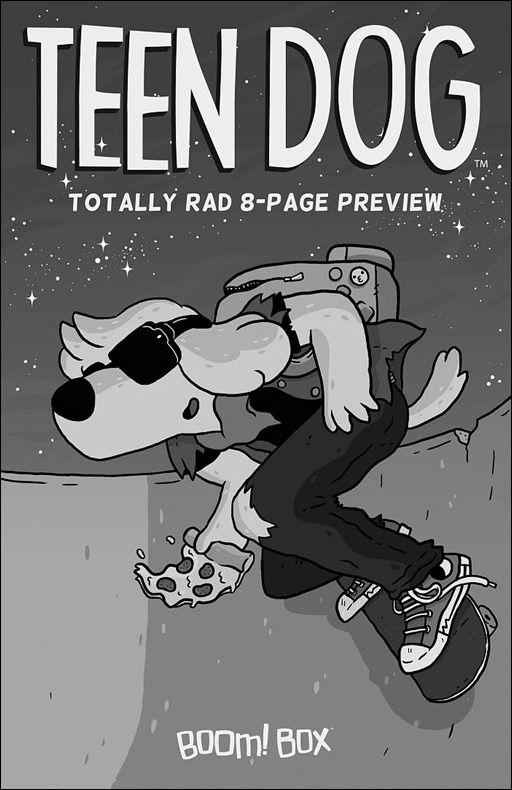 ---
THE WOODS #1
$10, limited to 500 copies
Cover by Jeff Stokely
Writer: James Tynion IV
Artist: Michael Dialynas
On October 16, 2013, 437 students, 52 teachers, and 24 additional staff from Bay Point Preparatory High School in suburban Milwaukee, WI vanished without a trace. Countless light years away, far outside the bounds of the charted universe, 513 people find themselves in the middle of an ancient, primordial wilderness. Where are they? Why are they there? The answers will prove stranger than anyone could possibly imagine.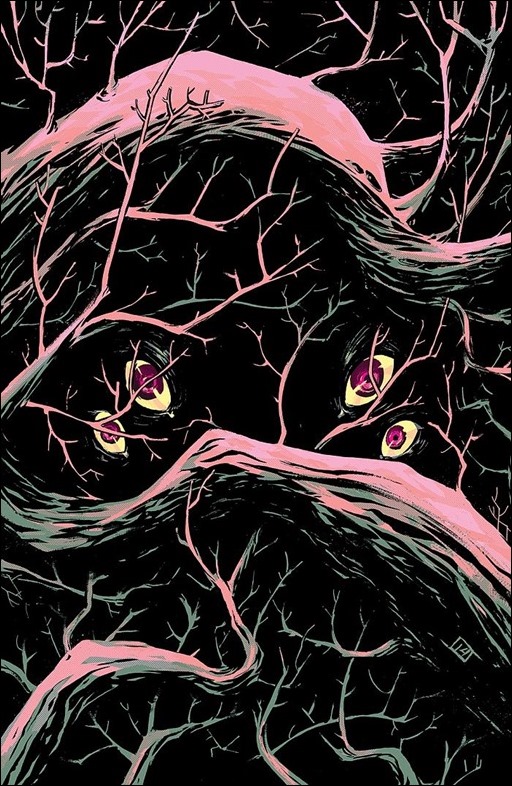 ---
LUMBERJANES SCOUT BADGES
$20, limited to 500 sets
Artist: Kate Leth
A set of four, iron-on patches taken straight from the pages of LUMBERJANES, designed by Kate Leth. The set includes patches for the Naval Gauging Badge, Pungeon Master Badge, Up All Night Badge, and the San Diego Comic-Con exclusive CON-Quistador Badge. Jo, April, Mal, Molly and Ripley are five best pals determined to have an awesome summer together…and they're not gonna let any insane quest or an array of supernatural critters get in their way! LUMBERJANES is one of those punk rock, love-everything-about-it stories that appeals to fans of basically all excellent things.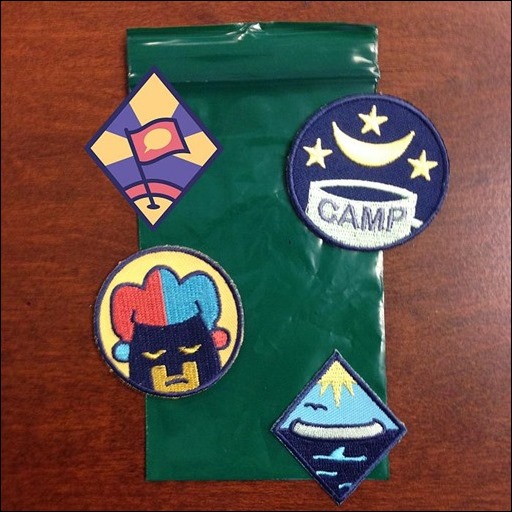 For more information on San Diego Comic-Con, visit their website at http://www.comic-con.org/cci.
– The Comic Book Critic