The Godfather of Shock Rock Faces Evil Ernie And The CHAOS! Comics Fiends in ALICE COOPER VS. CHAOS!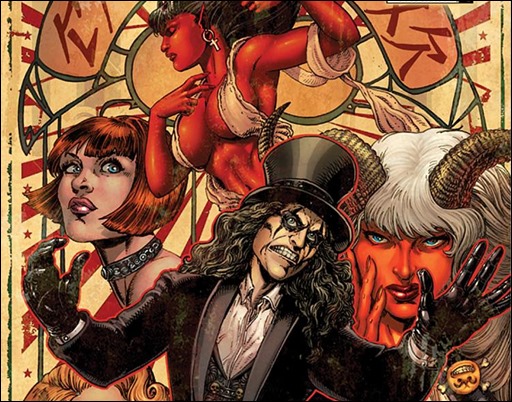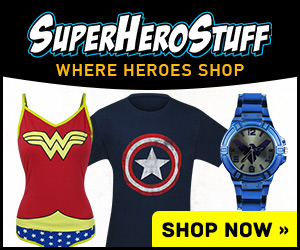 Alice Cooper meets Evil Ernie in Alice Cooper vs. Chaos!, a five issue miniseries by Tim Seeley and Jim Terry, on sale in September 2015 from Dynamite Entertainment.
Press Release
Dynamite Entertainment is proud to announce the upcoming September launch of Alice Cooper vs. Chaos!, a five-issue miniseries pitting the world-renowned rock 'n' roll icon against the comic book industry's premiere horror franchise. Tim Seeley (Hack/Slash, Batman: Eternal) and Jim Terry (The Crow: Skinning the Wolves) share writing duties for the event series, with Terry performing double-duty as the series artist. Joyce Chin (Swords of Sorrow) will provide covers for the entirety of the series.
"Diving headfirst into the Chaos! universe has been incredible, like being pushed out of a plane into a combat zone filled with gods, nut jobs, and the most gorgeous women you could fathom," says co-writer and artist Jim Terry. "I'm doing my best to keep up with it and hopefully kick in a little dramatic flair, as well as my own (and Tim's) particular brand of madness. Add Alice Cooper to the mix and we're hoping to leave fans breathless from action, horror, and mind-bending rock 'n' roll surrealism."
Alice Cooper vs. Chaos! follows upon the success of Dynamite's 2014 Alice Cooper, a miniseries that reimagines the rock legend as the supernatural Lord of Nightmares, responsible for visiting the vilest men and women of the world with nocturnal horrors. In comics, no one is more vile than Evil Ernie, Chastity, and Purgatori… the fiends of the Chaos! Comics universe. Plagued by bizarre nightmares, these terrifying undead monsters put aside their personal differences and join the teen monsters known as The Chosen to hunt down the one-and-only Alice Cooper.
Co-writer Tim Seeley says, "I'm excited to work with my friend Jim Terry on the perfect mash-up of our favorite things. Dynamite is a great place to make crossovers, and this one will be pure metal. Raise your devil hand, fiends."
The Chaos! Comics horror line launched in 1991 with Evil Ernie #1, originally published by Eternity Comics and subsequently by Chaos! Comics and later Dynamite Entertainment. Tens of millions of Chaos! comic books have sold into the marketplace, making its distinctive creature characters instantly recognizable to an entire generation of comic fans. Since 2012, Dynamite has reimagined the entire line with series dedicated to Evil Ernie, Purgatori, Chastity, Lady Demon, and more.
Renowned as the Godfather of Shock Rock, Alice Cooper is an icon of rock 'n roll with a career spanning five decades.  A Detroit native, Cooper has released 26 albums over the course of his illustrious career, and maintains a reputation as one of the most theatrical live performers in history, often incorporating elaborate horror movie and vaudeville sensibilities into his stage shows.  In addition to his musical career, he is an avid golfer, film actor, restaurateur, and radio DJ.
Alice Cooper vs. Chaos! #1 will be solicited in Diamond Comic Distributors' July Previews catalog, the premiere source of merchandise for the comic book specialty market, corresponding to items shipping in September 2015. Comic book fans are encouraged to reserve copies of Alice Cooper vs. Chaos! with their local comic book retailers. Alice Cooper vs. Chaos! will also be available for individual customer purchase through digital platforms courtesy of Comixology, Dynamite Digital, iVerse, and Dark Horse Digital.