X-O MANOWAR (2017) #4 – "GENERAL" Begins with AN ALL-NEW JUMPING-ON POINT on June 28th!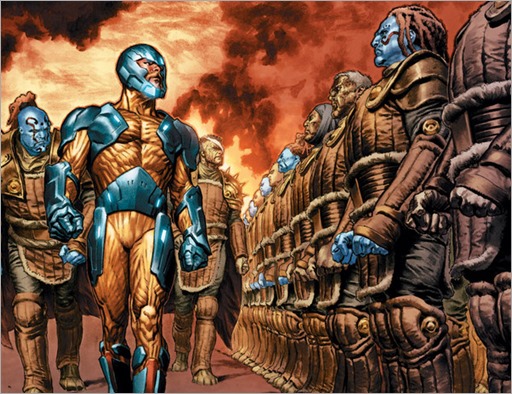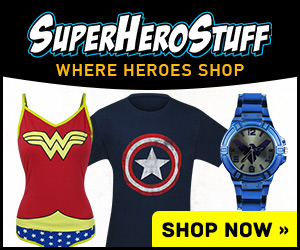 Here's your first look at X-O Manowar #4, "General" part one by writer Matt Kindt and artist Doug Braithwaite, on sale June 28th, 2017 from Valiant Comics.
Press Release
As revealed at SyFyWire, Valiant is proud to present your first look inside X-O MANOWAR (2017) #4 – the FIRST ISSUE of "GENERAL," an ALL-NEW ARC and EXPLOSIVE NEW JUMPING-ON POINT for the year's best-selling independent comic book series!
On June 28th, New York Times best-selling writer Matt Kindt (DIVINITY, Mind MGMT) and superstar artist Doug Braithwaite (BLOODSHOT U.S.A., Justice) launch the next phase of X-O Manowar's galaxy-razing rise to power with "GENERAL" – a three-part juggernaut putting Aric of Dacia in command of his new world's most dreaded fighting force…and beginning an armor-plated takeover of an alien world that will soon reverberate throughout all corners of the Valiant Universe!
In the fires of victory, a soldier becomes…a general. With the hostile Cadmium army crushed beneath his force's boots, Aric of Dacia now commands an entire fleet into the final battle for the soul of an empire. But as a new dawn rises across this unrelenting alien world, what vicious new menace will come forth to greet it?
On June 28th, X-O Manowar's path to domination will shatter the stars themselves as Matt Kindt and Doug Braithwaite raise the stakes of the year's #1 best-selling independent comic series right here with a planet-shaking entry point, only in X-O MANOWAR (2017) #4 – featuring a formidable line-up of covers by Lewis LaRosa (BLOODSHOT REBORN), Dave Johnson (Superman: Red Son), Ryan Bodenheim (The Dying & The Dead), and comics legend Bob Layton (Iron Man)!
Then: Don't miss the next staggering act of the year's most-talked about new series with the X-O MANOWAR (2017) #4-9 PRE-ORDER EDITION BUNDLE! Available only as a pre-order set, the X-O MANOWAR (2017) #4-9 PRE-ORDER EDITION BUNDLE – including six, massively expanded editions of X-O MANOWAR's "GENERAL" and "EMPEROR" story arcs by New York Times best-selling writer Matt Kindt (DIVINITY, Dept. H) and superstar artists Doug Braithwaite (Bloodshot U.S.A., Justice) and Clayton Crain (RAI, X-Force) – can only be ordered as a set and must be ordered with your local comic shop by the initial order date of April 27th, 2017! Released monthly from June through November, each installment of this six-issue pre-order bundle comes packed with all-new extras and bonus content, including creator commentary and behind-the-scenes process materials…including AN UNFINISHED DELETED SCENE that won't be found anywhere else!
But first: Join the battle that has taken the comic book industry by storm on April 26th as Matt Kindt & Tomas Giorello propel Aric of Dacia's chart-dominating debut forward…and force the unstoppable X-O Manowar onto the front lines of an eons-old extraterrestrial battlefield that will forever shape the future of the Valiant Universe's greatest hero in X-O MANOWAR (2017) #2 – in stores alongside the X-O MANOWAR (2017) #1 SECOND PRINTING!
For more information, visit Valiant on Facebook, Twitter, Tumblr, Instagram, and ValiantUniverse.com.
For Valiant merchandise and more, visit ValiantStore.com
X-O MANOWAR (2017) #2
Written by MATT KINDT
Art by TOMÁS GIORELLO
Cover A by LEWIS LAROSA (FEB172049)
Cover B by KENNETH ROCAFORT (FEB172050)
Interlocking Variant Cover by MICO SUAYAN (FEB172052)
X-O Manowar Icon Variant by KAARE ANDREWS (FEB172053)
Blank Cover also available (FEB172051)
$3.99 | 32 pgs. | T+ | VALIANT PREMIUM | On Sale APRIL 26 (FOC – 4/3/17)
X-O MANOWAR (2017) #3
Written by MATT KINDT
Art by TOMÁS GIORELLO with DAVID MACK
Cover A by LEWIS LAROSA (MAR172157)
Cover B by KENNETH ROCAFORT (MAR172158)
Interlocking Variant Cover by MICO SUAYAN (MAR172159)
X-O Manowar Icon Variant by J.G. JONES (MAR172160)
Blank Cover also available (MAR172161)
$3.99 | 32 pgs. | VALIANT PREMIUM | T+ | On Sale MAY 24 (FOC – 5/1/17)
X-O MANOWAR (2017) #4 (NEW ARC! "GENERAL" – PART 1)
Written by MATT KINDT
Art by DOUG BRAITHWAITE
Cover A by LEWIS LAROSA (APR172114)
Cover B by DAVE JOHNSON (APR172115)
Interlocking Variant Cover by RYAN BODENHEIM (APR172117)
X-O Manowar Icon Variant by BOB LAYTON (APR172118)
$3.99 | 32 pgs. | T+ | VALIANT PREMIUM | On Sale JUNE 28th (FOC – 5/22/17)
X-O MANOWAR (2017) #4-9 PRE-ORDER EDITION BUNDLE
Written by MATT KINDT
Art DOUG BRAITHWAITE (#4–6) and CLAYTON CRAIN (#7–9)
Covers by DOUG BRAITHWAITE (#4–6) and CLAYTON CRAIN (#7–9) (APR172116)
$23.94 US [six issues] | 40 pgs. each | T + | VALIANT PREMUM
X-O MANOWAR (2017) #4 PRE-ORDER EDITION | On Sale JUNE 28th (IOD – 4/27/17)
X-O MANOWAR (2017) #5 PRE-ORDER EDITION | On Sale JULY 26th (IOD – 4/27/17)
X-O MANOWAR (2017) #6 PRE-ORDER EDITION | On Sale AUGUST 23rd (IOD – 4/27/17)
X-O MANOWAR (2017) #7 PRE-ORDER EDITION | On Sale SEPTEMBER 27th (IOD – 4/27/17)
X-O MANOWAR (2017) #8 PRE-ORDER EDITION | On Sale OCTOBER 25th (IOD – 4/27/17)
X-O MANOWAR (2017) #9 PRE-ORDER EDITION | On Sale NOVEMBER 22nd (IOD – 4/27/17)