'Iron Metropolitan' Concludes in Your First Look at IRON MAN #22!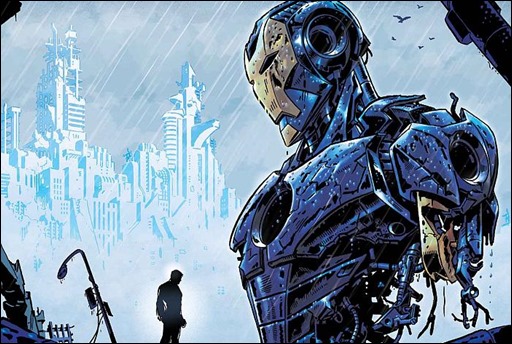 Here's your first look at Iron Man #22 by Kieron Gillen and Joe Bennett, courtesy of Marvel Comics – on sale March 5th 2014.
Press Release
This February, Tony fights for his life as the blockbuster Iron Metropolitan arc reaches its world shaking conclusion in IRON MAN #22! Mandarin City is aflame. Troy is in ruins. Both brutally destroyed by wielders of the Mandarin Rings. As Tony does battle against The Exile, Red Peril and Lord Remaker, is there anyone left to help Tony in his hour of need? It's a showdown for the ages – and you'll never guess who comes out on top! Will Tony make the ultimate sacrifice to save the city? Can he? Plus, who is this mysterious threat hunting the Mandarin Rings from the shadows? Seeds sown here bear bitter fruit in the upcoming Rings of the Mandarin arc! You won't want to miss IRON MAN #22!