HARBINGER WARS: BATTLE FOR LAS VEGAS Hits iOS and Android for Free on May 2nd!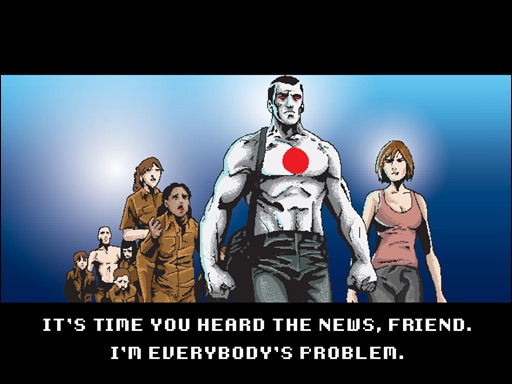 Press Release
Valiant is proud to announce that its much anticipated free 8-bit mobile game, Harbinger Wars: Battle for Las Vegas, will be hitting iOS and Android devices everywhere on May 2nd!
Available as a free app via the App Store and Android Marketplace, Valiant's action-packed, retro-styled sidescroller gives users the ability to control Bloodshot or Harbinger's Peter Stanchek as they fight their way out of a classified Project Rising Spirit compound and directly into the crosshairs of an epic superhuman showdown on the Vegas Strip!
Out of the pages of Valiant's smash-hit summer crossover event and onto your favorite mobile device, Harbinger Wars: Battle for Las Vegas is a first-of-its-kind gaming experience that mirrors the events of the ongoing Valiant comic book storyline by Joshua Dysart, Duane Swierczynski and Clayton Henry. Developed in concert with Storm City Entertainment and Gameshastra, Valiant's first mobile game comes complete with an all-original 8-bit soundtrack, a wide array of Easter eggs for longtime gamers and Valiant fans, and gameplay that emulates some of the most well-remembered console classics of the 1980s.