FREE FIRST ISSUES OF
STORM DOGS AND COMEBACK
Image Comics miniseries debut issues are free digitally
A WORLD WITHOUT TRAGEDY — IF YOU HAVE THE CASH
New Image Comics mini-series COMEBACK explores mortality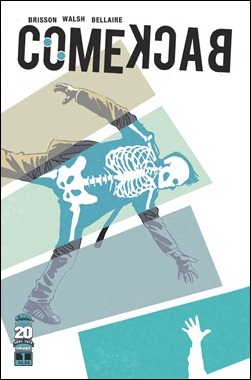 Press release
In the world of COMEBACK by Ed Brisson and Michael Walsh, the new mini-series coming from Image Comics/Shadowline in November, death isn't necessarily inescapable.
The secret organization Reconnect sends agents back in time to rescue people moments before their untimely deaths, reversing tragedy and reuniting lost loved ones with their families. Mark is one of these agents, and despite the seeming good of what he's doing, he discovers there is a dark side to saving the dead.
"Mark does this job because it's fairly easy and pays well. Although it's illegal, he justifies it to himself because he's helping people," said writer Brisson. "He's pushed to do some things that go counter to his own beliefs and is stuck with the moral dilemma of breaking his own code of ethics or dying."