FIRST LOOK OF DYNAMITE'S NOIR #1!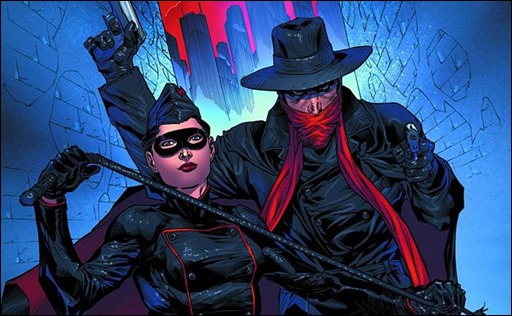 Here's your first look at 6 pages from Noir #1, guest starring The Shadow, by Victor Gischler & Andrea Mutti, on sale November 13th, 2013 from Dynamite Entertainment.
Press Release
Dynamite is proud to show the first look at interior pages for Noir #1, a new comic book miniseries that unites Miss Fury, one of the first female superheroes, with the Black Sparrow, a villainess featured in the bestselling comic series, The Shadow.  Written by acclaimed crime novelist and respected comic author Victor Gischler and illustrated by Andrea Mutti, Noir is a five-issue crime drama with supernatural elements, including an appearance by the ever-mysterious The Shadow himself.
The first issue of the five-part Noir miniseries is solicited in the September Previews catalog for preorder by retailers worldwide.  Noir #1 features a cover illustration by Ardian Syaf.  As a special incentive, for every 50 copies ordered by retailers, they will receive a complimentary rare variant edition featuring Syaf's black-and-white line art.