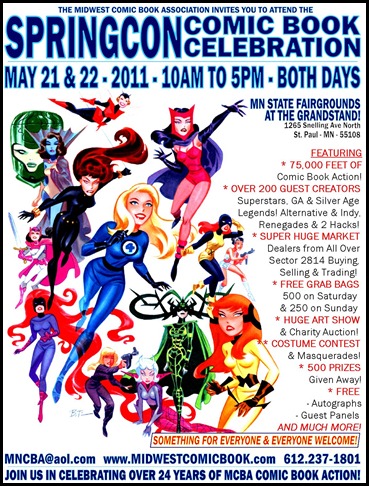 The Midwest Comic Book Association holds their annual SPRINGCON this year at the Minnesota State Fairgrounds on May 21st and 22nd. There are currently 225 guests scheduled to attend with more being added.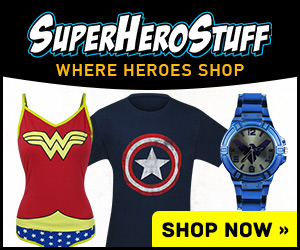 Free Grab bags will be given away to the first 500 people on Saturday and the first 250 on Sunday! If you're planning on cosplaying, there is a costume contest as well!
Below is the Panel Schedule, but unfortunately Gail Simone and Denny O'Neil will not be able to attend this year's event as previously listed.
If you're planning on attending, more information can be found at the Midwest Comic Book Association Website!
2011 SpringCon Panel Schedule
*UNDER THE STAIRS * FREE ADMISSION *
*HOSTED BY "JOVIAL" JOHN KENTNER*
SATURDAY
11AM-12PM:TECHNIQUES OF COMIC BOOK ILLUSTRATION WITH DOUG PASZKIEWICZ
Where we break down, step-by-step, what works and why when telling a story with words and pictures. While his work on Arsenic Lullaby and Mad Magazine may be controversial. Industry wide recognition of his talent is not. A great way to start SpringCon!
12PM to 1PM:THE AMAZING STORY OF QUANTUM MECHANICS – PROF. JAMES KAKALIOS
It's the 21st century…we were promised jetpacks and flying cars. We got cell phones and laptop computers instead! What happened??? The good Doctor will explain the 3 basic principles of quantum mechanics and show (illustrations from comics & pulps) how this leads to the laser & Blu-Ray DVDs.
1PM to 2PM:HOWARD CHAYKIN HOUR OF POWER
Meet one of the most talented and controversial comic creators of all time! Looking for happy clouds, fluffy bunnies, or wishy-washy opinions? This panel is NOT for you! An in-your-face interface with a true industry maverick and legendary creative visionary! Red Hot!
2PM to 3PM:"FASHIONABLE FIGHTING WOMEN" WITH TRINA ROBBINS
Join industry legend Trina Robbins as she shows images of 3 early comic heroines that she's currently writing books, graphic novels, and comics on: Senorita Rio, Miss Fury, and Honey West. The "Fashionable" part is because none of them wear obnoxious skintight spandex, but instead fight the bad guys quite well in the stylish dresses and even evening gowns of the period. A do not miss presentation!
3PM to 4PM:TEACHING COMICS 101
Meet award winning writer/artist Jessica Abel and MCAD Instructor/ Creator Barb Schulz as they discuss the fine art of teaching fine art in comics and graphic communication. A great panel for aspiring creators, teachers, librarians and those who enjoy the process of comic creation!
4PM to 5PM:COSTUME CONTEST AWARDS!
A veritable cavalcade of stars! Costuming has been a long and honored tradition at comic book conventions and here's your chance to meet this years costumed superstars of SpringCon! Bring your camera!
SUNDAY
9:15AM to 9:45AM:CHAPEL SERVICE
Are monsters getting you down? Are you tired of killing zombies that won't stay dead? (I sure am!) Well, cheer up, everyone; there is a solution. Come to hear our resident demon-slayer Ron Hartley speak on: "How to defeat a monster!" Everyone is welcome, but please pick up your gate pass at the Christian Comics table.
11AM to 12PM:SPIRITUAL THEMES IN COMICS!
The Comics Code Authority – Where has it gone? Will it rest in peace? Did it help or hinder the industry? Have comics become immoral without it? Hear our esteemed panel of writer/editor Len Strazewski, independent writer Bud Hanzel, and DC artists Peter Krause and Patrick Gleason discuss "Morality and the Comics Code Authority."
12PM TO 1PM:DENNY O'NEIL!
Meet the award winning comic book writer/editor Denny O'Neil. Hailed for his sophisticated stories that expanded the artistic potential of the medium and editorial style that set new quality and collaborative standards. An industry giant, having worked on Batman, Green Arrow, Detective Comics, he has also written many novels, worked on TV and in Hollywood. A great opportunity to meet the legend!
1PM to 2PM:WIMMEN'S COMIX!
Roberta Gregory along with special guest, Trina Robbins, take us on a mind-blowing journey through the history of women in underground comix. Get the straight scoop on how it went down from two that helped it go down!
2:30PM:MCBA CHARITY ART & COLLECTIBLES AUCTION!
Considered by many to one of the premiere events at SpringCon, the charity auction offers a virtual embarrassment of comic book riches! Including original artwork, sketches, and unique collectibles. The auction is always a don't miss event! 100% of all the proceeds will be donated to the MN. Lupus Foundation and the Comic Book Legal Defense Fund. Cash, Checks, Credit, debit & LexCorp Cards, Bearer Bonds, Gold Bullion and Loose Meat Sanmiches will be accepted.