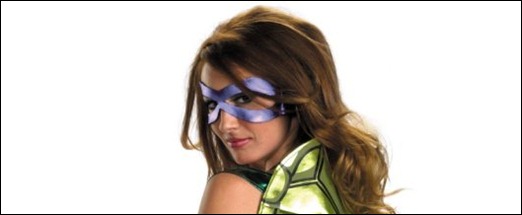 Even though there are hundreds, if not thousands, of sexy costumes for women to wear to Halloween or costume parties, there are always male-to-female conversions of superhero costumes. Sometimes they look decent, but more often than not, they are just a flimsy interpretation of the original.
We at Comic Book Critic looked around for a few examples and found some rather interesting ones. Here's what we discovered!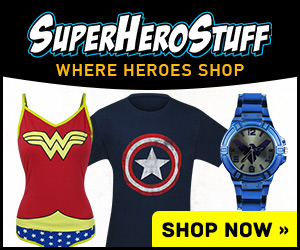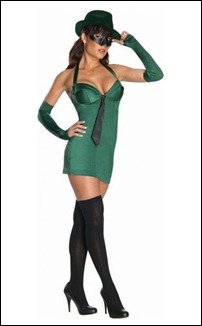 The Spirit Halloween store brings us a Sexy Green Hornet costume. The tag line reads: "They say one way to protect the law is to break it. Break a few laws and make some of your own in this very sexy women's Green Hornet adult costume." I don't know what those laws are but I bet they relate to prostitution.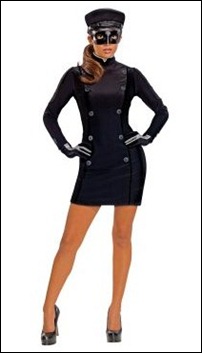 Costume Express has a Sassy Kato costume for us as well. I remember watch reruns of The Green Hornet as a kid, but I don't recall Bruce Lee ever being either "sassy" or having legs quite like those. Maybe that's why my childhood memories are a bit fuzzy.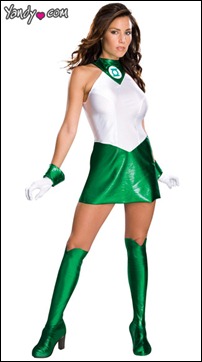 Yandy.com has the Green Lantern Uniform costume for sale. I don't think that I've ever seen Hal Jordan, Guy Gardner, or John Stewart ever wear one of those. I think I've seen Killowog is a skirt, but I may have been dreaming it.
You can get a Sexy Donatello Teenage Mutant Ninja Turtle costume from buycostumes.com. I've been reading TMNT for a long time and I've even watched the cartoons and films, but I've never seen Donatello (or ANY other Turtle for that matter) dress up like that. At least not on the channels I pay for on cable.
The tagline on the ad is: "She's the smartest and sexiest of all the turtles!" Well I guess she was smart enough not to spend all her money on all that extra bulky fabric!
Wait… Fantasy Costumes also brings us Leonardo, Michelangelo, and Raphael too! Say it ain't so!! At least there's no sexy Splinter costume… so this is the best you're going to get. Sexy hairy legs, huh?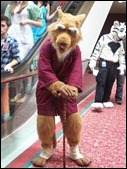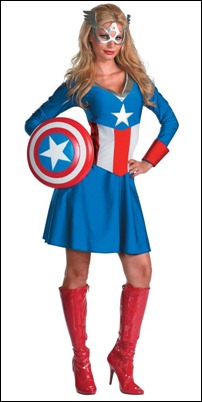 This Captain America Female Classic costume from buycostumes.com probably won't stop bullets with it's tiny plastic shield… Hell, it wouldn't protect you if someone splashed you with water, much

less a rain of bullets! I would also think it would be hard to protect this country in those high heeled boots, but what do I know about fighting Nazis in WWII?!?
Oh yeah, Lady Sif called, she wants her mask back!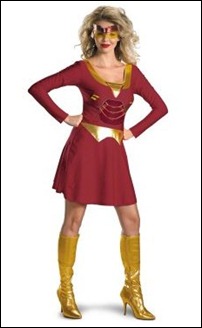 Another one from Costume Express is the Iron Man 2: Iron Woman Classic costume. The tagline reads:"Fight for peace, save the world and live in style as this glamorous girl! The Iron Woman Classic costume includes a maroon Mark VI style dress and matching eye mask." Fight?!? You can't even go out on a cold Autumn night with that costume on without catching a cold! Then again, I could see Tony Stark dream up that costume for the ladies he likes to pal around with!
Now I'd like to leave you with a male superhero costume on a male model. It's from Zentai costume called Blue Batman Sexy Lycra Spandex Costume. Btw, I don't want to know why this is available in XS male sizes.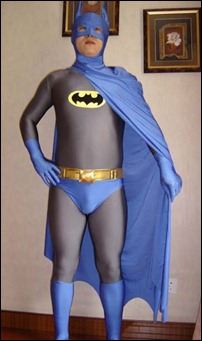 WHY, Sexy Batman, Why?!?
No! Not you too Robin!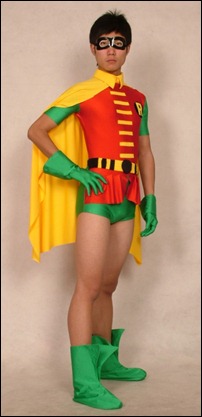 – The Comic Book Critic