THE START OF AN EPIC SAGA SELLS OUT
SAGA #1 gets a second printing

It's not surprising that with all the buzz surrounding this series, that the first issue would sell out before its release date. I'm expecting a few subsequent issues to do the same.
If you haven't pre-ordered this series or were on the fence, I suggest you go down to your LCS on Wednesday March 14th and pick up a copy before they are all out of first printings. Better yet, give them a call and they'll put it aside for you.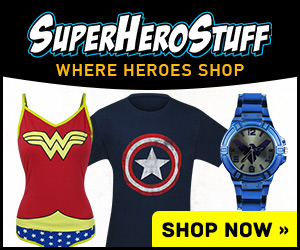 Press release
The first issue of SAGA, the new series from Image Comics by Brian K. Vaughan and Fiona Staples, has sold out of its first printing ahead of its March 14th release date. The new science fiction series, which marks Vaughan's return to comics after the end of Ex Machina in 2010 and the highest profile work Staples has done to date, has been widely anticpated since its announcement at the 2011 Comic-Con International convention.
The issue has immediately gone back to press and a second printing (JAN128161) will be in stores on April 11, the same day as SAGA #2.
SAGA tells the story of one family's survival in the midst of an interplanetary war. Alana and Marko are from opposite sides in the centuries-old conflict, and their newborn daughter's existence creates complications for both sides of the war.
Advance reviews of the series have added to the expectation that SAGA will be one of the best new comic book series of the year:
"Saga is [as] beautiful and enrapturing as it's daring and expansive…. With one issue, Saga has already earned its spot as one of the best new comics series of 2012."
— iFanboy
"This is one of the best first issues I have seen, and will hopefully set a precedent for other comics to follow."
— Multiversity
"This is your chance to get on board from the beginning, not just of the next Brian K. Vaughan title, but also the next big story in comics. Years from now, when someone asks what's a good title to hand to someone whose never read comic books before? Saga will be at the top of the list."
— MTV Geek
"It's a terrific book, and another sign of the new resurgence at Image Comics. It is a wonderful thing to welcome Brian back to the medium, and a wonderful thing to discover the art of Fiona Staples."
— Warren Ellis
"Saga #1 deftly establishes entire cultures and presents a wide-ranging cast of characters who we understand almost instantly. "
— Tor.com
"Saga is full of great dialogue, insane imagination, textured craft, the list goes on. If you don't want to at least try this comic then perhaps you need to get out of comics. You might be missing the point."
— The Weekly Crisis
"This is a definite buy if you like Vaughan, wonderful art, or science fiction/ fantasy, as this book has them all. Rating: 5/5"
— Comic Attack
"Blending equal parts Sci-Fi and Magic, Saga is a big budget entertainment extravaganza, one with a chewy, heart-filled center."
— Top 5 Comics
"The combination of writing and art meets at a level where it is possible for the outside world to fade away. You can float into these stories created by Vaughan and Staples."
— Why Not Indie
"[Brian K. Vaughan] and artist Fiona Staples have created a promising, ambitious and gorgeous new world that I can't wait to explore further. Saga blends together big ideas like magic, blasters, robots, intergalactic war with smaller, character-based notions like family, loyalty, honor and hope in one hell of a first issue."
— Inside Joke Theatre
"Amazing. I would marry this book. I would bear this book's children."
— Three Chicks Review Comics
SAGA is a full-color monthly comic book available in comic book stores and multiple digital platforms. The first issue, in stores on Wednesday, is 44 pages long, with no ads.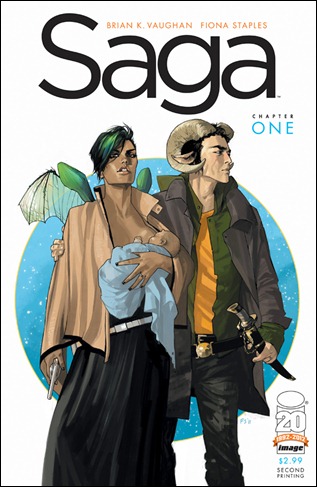 – The Comic Book Critic