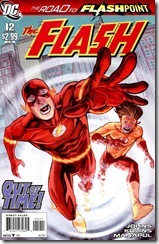 Writer: Geoff Johns
Artist: Scott Kolins
Additional Art: Francis Manapul
Colors: Michael Atiyeh, Brian Buccellato
Letters: Sal Cipriano
Cover: Francis Manapul, Brian Buccellato
Editor: Darren Shan, Brian Cunningham
Publisher: DC Comics
Cover Date: July 2011
Cover Price: $2.99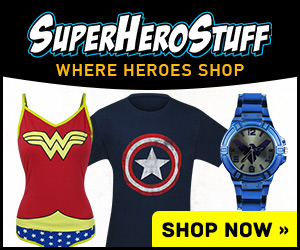 The Road To Flashpoint, Part Four is not only the last part of the story arc that leads to a major DC Universe event, it's also the final issue of the current Flash series.
An alternate universe Barry Allen travels through realities to try to stop a menace that threatens to change everything we know. That menace is discovered to be Professor Zoom, The Reverse Flash! Zoom has discovered the true nature of the Speed Force and the power it contains. Unfortunately, both Barry Allens are unable to stop Zoom's experiment and big changes are in store for the DC Universe.
Geoff Johns has done a great job on The Flash and with this issue, keeps us on the edge of our seats from start to finish. With Johns at the helm, Barry Allen not only faces threats from villains and criminals, but his personal life is also a constant battle. The Flash is shown to be more than just a superhero, but a man with his own faults as well. That is something that Johns has done well in this series.
Even though Francis Manapul was scheduled to draw this issue, DC editorial decided to pull him on the book so that he could get to work on his 'next project.' Although Scott Kolins did the interior pages of this issue, Manapul did contribute the cover and pages 14-18 of the story. Scott Kolins does a good job at taking over the last two issues of this important storyline.
One thing that is striking about this issue is the extreme use of reds and yellows in the coloring job by Michael Atiyeh and Brian Buccellato! Every page has yellow or red energy bolts, speed blurs, or glowing bits filling in everything; sometimes even the panel borders! Granted, what other palette would you expect when The Flash, Kid Flash, and The Reverse Flash are locked in an epic battle for the Speed Force? You wouldn't expect a lot of blues and greens to be used.
I was impressed with the overall tightness and pace of this story. The art and story flowed easily and there was plenty of palpable tension to keep you interested all the way to the end. Now comes Flashpoint, the big event DC has been teasing us with for months. After reading the event leading up to it, I'm anticipating great things from the first issue.
– The Comic Book Critic
Comic Book Critic Rating: 8.0