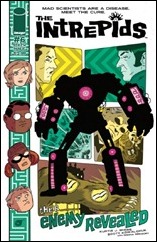 Writer, co-creator: Kurtis J. Wiebe
Illustrator, co-creator: Scott Kowalchuk
Cover, Designer: Scott Kowalchuk
Colorist: Donna Gregory
Letterer: Ariana Maher
Script Editor: Brittany Matter
Publisher: Image Comics
Cover Date: August 2011
Cover Price: $2.99
Title: "End of an Era"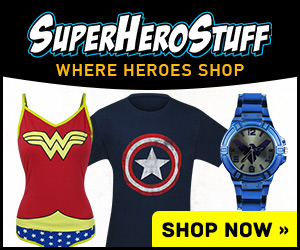 The Intrepids #6 unfortunately marks the end of this six issue mini series, but it does so with a bang! The Intrepids come to a realization they've been manipulated by their benefactor Dante. This time Dante uses Chester to carry out his bidding remotely by use of a helmet that he uses to control Chester. The team then sides with Dr. Koi in an effort to bring down their leader.
If you're looking for action, this issue does not disappoint. It's got cyborgs, car crashes, gung-ho mad scientists, attack baboons with machine guns, attack baboons with Taser prods, cybernetic bears, and computer hacking – I'd like to see Marvel or DC top that!
This series has been a great ride through the minds of Kurtis Wiebe and Scott Kowalchuk and every reader is better for having experienced it. The Intrepids is one of those comics that work wonderfully through the collaboration of the talented people involved in it's creation and execution – and the execution and comedic timing are flawless. It's a sci-fi mystery action adventure with just enough comedy thrown in so that it doesn't take itself too seriously.
Each successive issue in the series made me want to read the next one even more, and now that it's over, I REALLY want to read more; especially after the fantastic last issue. Judging by the last panel, there looks to be plenty more explaining to do yet.
If you've never read The Intrepids, your local comics shop may be able to round up all the issues for you to purchase. If you can't find those issues, just wait until December 2011 when The Intrepids Volume 1 collects the entire series. Put your order in now so you don't miss out!
I've always advocated that people vote with their dollars, and when it comes to this creator-owned series, it's just as fitting that we support quality work. Let the creators and publishers know that their efforts are appreciated. Lately Image Comics has been putting out great works by very talented creators, and this is no exception.
– The Comic Book Critic
Comic Book Critic Rating: 9.0