THE RED TEN's OXYMORON to Star in His Own Bloodsoaked Anthology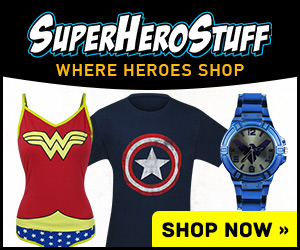 Maverick independent publisher ComixTribe announced today that it will debut OXYMORON, a graphic novel anthology featuring the psychotic contradiction-obsessed supervillain, at the 2012 New York Comic Con.
The Oxymoron, a popular character from ComixTribe's independently distributed cult hit series THE RED TEN by Tyler James and Cesar Feliciano, is being resurrected in this new spin off anthology, featuring nine short stories by hot up-and-coming writers and artists including Jason Ciaramella (The Cape,Godzilla), Mark Poulton (Savage Hawkman, Avengelyne), Joe Mulvey (SCAM) and more, and is being edited by ComixTribe publisher Tyler James.
"I knew as soon as we sold the first copy of THE RED TEN that readers were going to demand more Oxymoron," said James. "Rather than keep all the fun to myself, I reached out to a group of some of the hardest working writers in independent comics to help bring this character (back) to life. The scripts are phenomenal–dark, twisted, zany, hilarious…and I've assembled a talented team of artists to bring them to life."
While the full OXYMORON collection will debut at NYCC in October, ComixTribe plans to release a 28 page, limited run OXYMORON #1 in advance, through its established micro-distribution network comprised of retailers in the New England Comics Retailers Alliance (NECRA) and other indie-supportive retailers in North America. ComixTribe has made headlines in 2012, opting to circumvent the traditional direct market distribution channel in favor of establishing direct partnerships with indie-supportive retailers for books such as SCAM and THE RED TEN. "Savvy retailers are adding depth to their shop by stocking quality creator owned books like SCAM and THE RED TEN," reports Larry Doherty of Larry's Wonderful World of Comics, who has partnered with ComixTribe on New England Comic Retailer's Alliance (NECRA) Variants for both SCAM #1 and THE RED TEN #2.
OXYMORON CREATIVE TEAMS ANNOUNCED!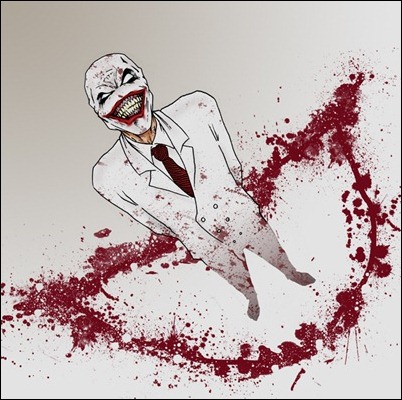 Up-and-coming writers and artists in nine short stories of OXYMORON dive into the past to paint a better picture of the man behind the smile.
"Passive Aggressive" written by Jason Ciaramella (The Cape, Godzilla), art by Joe Mulvey (SCAM)
"A Selfless Man" written by John Lees (The Standard), art by Tyler James (The Red Ten)
"Double Standard" written by Steven Forbes (Runners), art by Dave Myers (Warriors of the Dharuk)
"Nearly Perfect" written by Yannick Morin (Mascherata), art by Alex Cormack (Chikara)
"Quiet Riot" written by Paul Allor (Clockwork), art by Aaron Houston (Clockwork)
"Act Naturally" written by Rich Douek (Gutter Magic), art by Rafer Roberts (Plastic Farm)
"The Living Dead" written by Mark Bertolini (Breakneck), art by Carl Yonder (Ghostlines)
"Working Holiday" written by Mark Poulton(Savage Hawkman, Avengelyne), art by Jules Rivera (Valkyrie Squadron)
"Alone in a Crowd" written by Ryan K Lindsay (The Process), art by Daniel Logan (Back in the Day, EXO-1)
Stay in the Know
Keep an eye out at ComixTribe.com and follow hashtag #OXYMORON2012 on Twitter for up-to-date information and tidbits during the production of OXYMORON.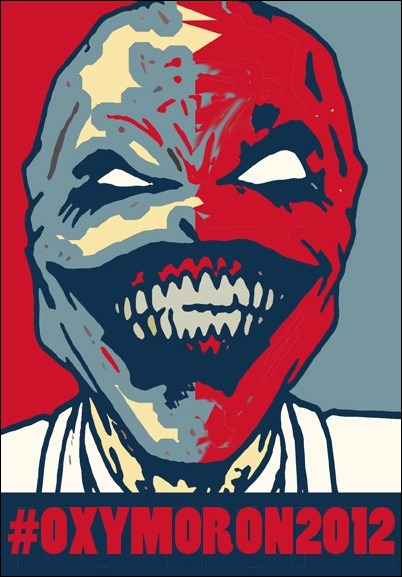 Check out ComixTribe Retailers
Retailers: Interested in Carry ComixTribe Books?
ComixTribe has a limited number of spots left for retailers interested in carrying our books this spring. These spots will be filled first-come, first-serve, so if you are a progressive retailer looking to support quality creator-owned books and want exclusivity for 30 days, contact [email protected] (or DM @tylerjamescomic at Twitter) immediately.
About ComixTribe
ComixTribe is a publisher of creator-owned comics, including SCAM, The Red Ten, EPIC, Tears of the Dragon, The Standard, and Runners. In addition to being a publishing imprint, ComixTribe is also an online community, with the mission statement: Creators helping creators make better comics. ComixTribe also sponsors the annual 30 Characters Challenge, an online art event where participants challenge themselves to create 30 brand new characters in just 30 days, one for every day of November. Visit ComixTribe.com or email publisher Tyler James ([email protected]) to learn more.
---
– The Comic Book Critic