Preview of THE GOON #1 Ahead of the Goon's 20th Anniversary, 23-International City Tour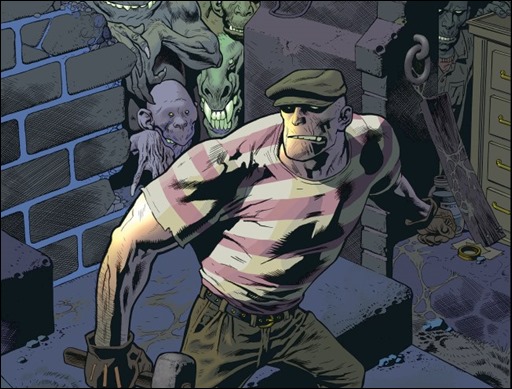 23 Cities, 20 Years of Legendary Comics, 1 Hard Travelin' Cartoonist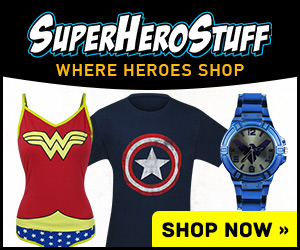 Here's your first look at The Goon #1 by Eric Powell ahead of The Goon's 20th Anniversary, 23-city tour along with special guests Steve Agee, Brendon Small, Ben Garant, & Eric Powell.
The Goon #1 is available March 13th, 2019 from Albatross Funnybooks.
Press Release
On March 13, 2019, award-winning cartoonist Eric Powell and his publishing company Albatross Funnybooks will debut an all new GOON comic book series, featuring never-before-published stories. In advance of the series' eagerly anticipated debut and a 23-international city tour, Albatross Funnybooks is releasing a preview of the premiere issue.
"I know there are still a select few who have not read the Goon in its 20 year existence. Those unfortunate souls are for the most part survivors of religious cults forbidding all forms of pure joy." said Eric Powell. "But there is a light on the horizon, you victims of programmed mental abuse! The first issue of the new Albatross Funnybook's THE GOON is a perfect jumping on point for new readers and die hard fans alike! If anyone needs help reprogramming your joyless cult existence, I'll be happy to personally put a copy of The Goon #1 in your hands along any of the 23 stops on my international Goon 20th Anniversary barnstorming tour."
Powell will be kicking off an international tour on March 8, 2019, when the Cannery Ballroom One in Nashville, Tennessee hosts THE GOON 20TH ANNIVERSARY PARTY, a star-studded celebration of two decades of award-winning GOON comic books by Nashville native Eric Powell. The event will feature a live recording of Steve Agee's Uhhh podcast, with host Steve Agee (The Sarah Silverman Program, Guardians of the Galaxy Vol. 2), guests Brendon Small (Metalocalypse, Galaktikon, Home Movies) Ben Garant (Reno 911!, The State) and The Goon creator Eric Powell, as well as a performance by special musical guest West End Motel, featuring Brent Hinds (Mastodon) and Tom Cheshire (Rent Boys, All Night Drug Prowling Wolves). Boutique Burger Bar's foodtruck will be on hand at the event. Advance tickets can be purchased at https://ticketf.ly/2ALRSwg.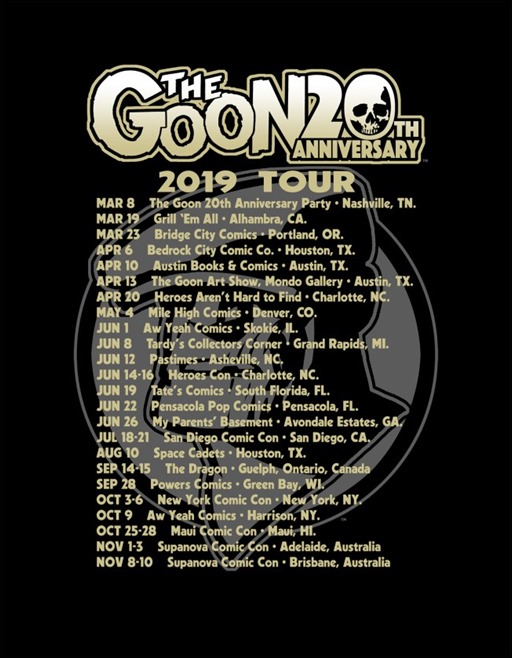 THE GOON 20TH ANNIVERSARY PARTY will launch a 23-city International Tour:
3/8/19- GOON 20th Anniversary Party – Nashville, TN.
3/19/19- Grill Em' All (event w/ Brendon Small)- Alhambra, CA.
3/23/19- Bridge City Comics- Portland, OR.
4/6/19- Bedrock City Comic Co.- Houston, TX.
4/10- Austin Books and Comics – Austin, TX.
4/13- Goon Art Show MONDO Gallery – Austin, TX.
4/20- Heroes aren't hard to find- Charlotte, NC.
5/4/19-FCBD- Mile High Comics- Denver, CO.
5/18-5/20/19- Diamond Retailers Summit- Las Vegas, NV.
6/1/19- Aw Yeah Comics-IL. w/Mike Norton
6/8/19- Tardys Collectors Corner -Grand Rapids, MI.
6/12/19- Pastimes – Asheville, NC.
6/14-6/16/19- HEROES CON – Charlotte, NC.
6/19/19- Tates Comics- South Florida, Fl.
6/22/19- Pensecola Pop Comics- Pensecola, FL.
6/26/19- My Parents Basement- Atlanta, GA.
7/17-7/21/19- San Diego Comic Con- San Diego, CA.
8/10/19- Space Cadets- Houston,TX.
9/14-9/15/19- The Dragon – Ontario, Canada
9/28- Powers Comics- Green Bay
10/3-10/6/19- New York Comic Con- NYC, NY.
10/9/19- Aw Yeah Comics- Harrison, NY.
10/25-10/28/19- Maui Comic Con- Maui, HI.
11/1/19-11/10/19 – Adelaide/ Brisbane Supanova Comic Con- Australia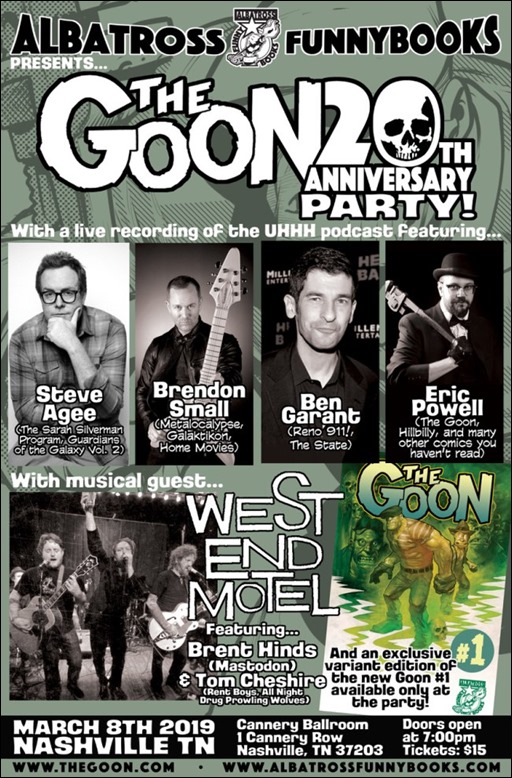 For almost two decades, the Goon's whiskey fueled adventures have thrilled fans, critics, librarians, grandmas and hardened criminals with their bold creativity, classic style, and irreverent humor.
"The Goon is old-school cool—a great, gurgling gumbo of EC Comics horror, Monty Python wit, and 1930s pulp."—Entertainment Weekly
"A true American original—a delirious medley of strange characters, stranger creatures, wild-ass (and often truly creepy) storytelling, art so excellent and perfectly matched to the tone of his stories as to be flabbergasting, and writing so hilarious that it sometimes comes close to making me pee my pants."—Frank Darabont, director
"The product of a contentedly demented mind."—Comic Book Resources
"The Goon has earned [Powell] a seat at the table with Kirby, Eisner, Chester Gould, Hal Foster and Al Feldstein."—Joe Hill (Locke & Key)
"Eric Powell's great series The Goon deftly combines lowbrow humor with unexpected emotional depth in its ongoing story of a big, not-so-dumb guy who does battle with zombies in a town seemingly dreamt up by Tom Waits."—The A.V. Club
"Eric Powell has created a sharp, witty little monster comic with a very interesting mystery at its heart. And Eric can draw as well as anyone in the business. When zombies are overrunning the city, there's only one man tough enough to keep the undead in line: Eric Powell's THE GOON."—Jeff Smith (creator of Bone)
"Every panel [is] gorgeously detailed, like a Max Fleischer cartoon if Cthulhu spat some sort of hellish bile all over it."—IGN
"There's a certain joy knowing that a cartoonist of great skill is filling his or her own comic with the elements they love . . . The appeal is how Powell conveys that enthusiasm by drawing every creature and monster so darned well."—Publishers Weekly
"If this is your first time [reading The Goon], you are in for a treat—if not, you already know how lucky you are."—David Fincher, director
"Tremendously entertaining . . . a highly enjoyable blend of pulp horror and slapstick comedy."—Fangoria
"Bursts with fisticuffs, gore, bad attitude and running character gags . . . Prime ghastly fun."—Booklist
"A comic for readers who like a generous helping of comedy with their hordes of zombies."—New York Daily News
"Comicdom's new hero is a fighting machine with a curious affinity for kicking serious ghoul butt. We hear the Hulk's green with envy."—Entertainment Weekly
For more updates on Albatross Funnybooks and the GOON's 20th Anniversary, follow the company on Twitter, Facebook, Instagram.