Earth's Mightiest Heroes Unite in AVENGERS STANDOFF: ASSAULT ON PLEASANT HILL #1!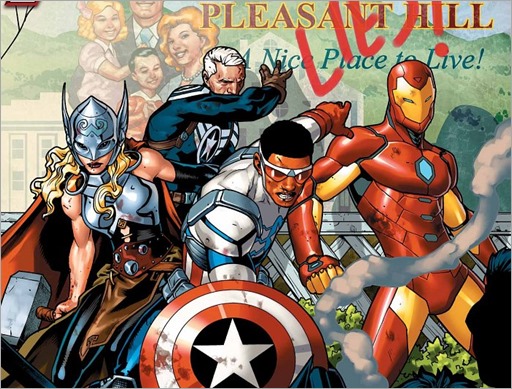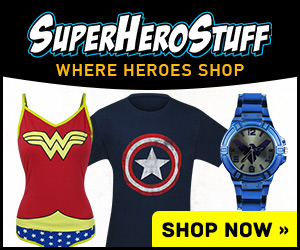 Here's your first look at Avengers Standoff: Assault on Pleasant Hill #1 by writer Nick Spencer and artist Jesus Saiz, on sale March 2nd, 2016 from Marvel Comics.
Press Release
The Spring's blockbuster Avengers crossover begins here! And it'll take all the Avengers to uncover the secrets behind Pleasant Hill.
Today, Marvel is pleased to present your first look at AVENGERS STANDOFF: ASSAULT ON PLEASANT HILL ALPHA! Written by blockbuster writer Nick Spencer with art by Marvel newcomer Jesus Saiz celebrate the 75th anniversary of Captain America with a bang as heroes from across the Marvel Universe strap in for an explosive ride! From the outside, Pleasant Hill looks like the perfect small town community. But this gated community has more than its fair share of secrets. Secrets so explosive it will draw estranged allies Steve Rogers and Sam Wilson back together to save a friend in danger and put things right.
But when the combined might of two Captain America's isn't enough, who do you call? In the face of unspeakable evil, Avengers teams from across the Marvel Universe will assemble like never before! But what's hidden in Pleasant Hill might even be too much for them to handle…
Don't miss the exciting kickoff this March in AVENGERS STANDOFF: ASSAULT ON PLEASANT HILL #1. Then, follow along as the story continues in the pages of All-New, All-Different Avengers, Uncanny Avengers, New Avengers, Captain America: Sam Wilson, Agents of S.H.I.E.L.D., Illuminati and Ultimates!
AVENGERS STANDOFF: ASSAULT ON PLEASANT HILL #1 (JAN160762)
Written by NICK SPENCER
Art & Cover by JESUS SAIZ
Connecting Variant A by ART ADAMS (JAN160763)
Party Variant by JAY FOSGITT (JAN160773)
Party Sketch Variant Also Available (NOV158115)
FOC – 02/01/16, On-Sale – 03/02/16