EXPLORE THE ORIGINS OF THE MARVEL UNIVERSE WITH MARVEL FAMOUS FIRSTS: 75TH ANNIVERSARY MASTERWORKS SLIPCASE SET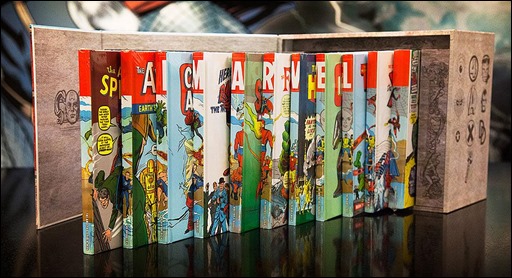 On September 3rd, you can buy the massive Marvel Famous Firsts: 75th Anniversary Masterworks Slipcase Set weighing in at over 33 lbs. and containing 11 hardcovers totaling more than 3,000 pages! This set doesn't come cheap with a list price of $500 and will appeal to the more serious collector.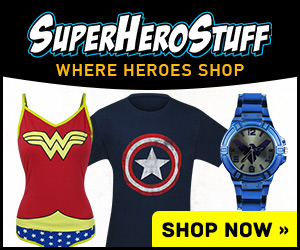 Take a look at what your money will buy you below!
Press Release
In celebration of Marvel Comics' 75th Anniversary, Marvel proudly presents a deluxe collection of its 10 mightiest Masterworks hardcovers – plus the all-new, long-in-demand NOT BRAND ECHH VOL. 1 and the AVENGERS 75TH ANNIVERSARY BY ALEX ROSS POSTER signed by none other than Stan "The Man" Lee!
"This is one of the most epic collections Marvel has ever compiled. Not only do these Masterworks retell the origins of Marvel's iconic heroes, but they are collected and presented in a gorgeous slipcase built to resemble the historic Avengers Mansion," says David Gabriel, SVP Sales and Marketing. "If that wasn't enough, this collection is coupled with a beautiful poster signed by Stan Lee. It doesn't get grander then this!"
Each titanic tome in this limited-edition boxed set features a newly designed cover treatment and interlocking spine artwork, and the slipcase itself is patterned after stately Avengers Mansion!
MARVEL FAMOUS FIRSTS: 75TH ANNIVERSARY MASTERWORKS SLIPCASE SET arrives in local comic book retailers September 3rd and contains the following monumental Marvel collected moments:
CAPTAIN AMERICA VOL. 1 HC
264 pgs. – collecting Tales of Suspense #59-81
DAREDEVIL VOL. 1 HC
256 pgs. – collecting Daredevil #1-11
DOCTOR STRANGE VOL. 1 HC
328 pgs. – collecting Strange Tales #110-111 and  #114 – 141, and Amazing Spider-Man Annual  #2
NOT BRAND ECHH VOL. 1 HC
456 pgs. – collecting Not Brand Echh #1-13; and material from Amazing Spider-Man Annual #5, Avengers Annual #2, Daredevil Annual #1, Fantastic Four Annual  #5 and Sgt. Fury Annual #4.
THE AMAZING SPIDER-MAN VOL. 1 HC
272 pgs. – collecting Amazing Fantasy #15 and Amazing Spider-Man #1-10.
THE AVENGERS VOL. 1 HC
248 pgs. – collecting Avengers  #1-10
THE FANTASTIC FOUR VOL. 1 HC
272 pgs. – collecting Fantastic Four #1-10
THE INCREDIBLE HULK VOL. 1 HC
176 pgs. – collecting Hulk #1-6
THE INVINCIBLE IRON MAN VOL. 1 HC
208 pgs. – collecting Tales of Suspense #39-50
THE MIGHTY THOR VOL. 1 HC
280 pgs. – collecting Journey into Mystery #83-100
THE X-MEN VOL. 1 HC
248 pgs. – collecting X-Men #1-10
Hardcover: 3,016 pages
Language: English
ISBN-10: 0785191283
ISBN-13: 978-0785191285
Product Dimensions: 19 x 16.8 x 13.5 inches
Shipping Weight: 33.4 pounds
On Sale: September, 3rd
– The Comic Book Critic