IMAGE AND TOP COW CELEBRATE FREE COMIC BOOK DAY
Press release
Something for every reader in IMAGE 20 and WITCHBLADE: UNBALANCED PIECES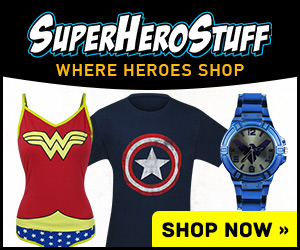 This annual Free Comic Book Day, Image Comics will be celebrating 20 years of success in revolutionizing the comics industry with two new comics. Both provide great examples of what Image excels at providing: a diversity of genres and styles —something for everyone.
Both IMAGE 20 and WITCHBLADE: UNBALANCED PIECES will be available to the public at comic book stores on May 5, 2012, and they're absolutely free!
IMAGE 20 is jam-packed full of exciting stories from new, upcoming comics and returning favorites. Titles include G-MAN from Chris Giarrusso, Robert Kirkman's GUARDING THE GLOBE from Phil Hester and Todd Nauck, Mike Allred's IT GIRL AND THE ATOMICS from Jamie S. Rich and Mike Norton, CRIME AND TERROR by Steve Niles and Scott Morse, NEAR DEATH by Jay Faerber and Simone Guglielmini, and REVIVAL from Tim Seeley and Mike Norton.
In "Witchblade: Unbalanced Pieces," new and lapsed WITCHBLADE fans will get the perfect chance to try out the brand new creative team, Tim Seeley and Diego Bernard, and a fresh new direction of Top Cow's flagship title. Since the events of ARTIFACTS, Sara Pezzini's entire life has been altered in immeasurable ways, not the least of which is she's living in a new city and has a new career. But one thing remains constant — the Witchblade. For fans who get hooked, "Unbalanced Pieces" continues in WITCHBLADE #155 — and they can pick up the WITCHBLADE: REBIRTH VOLUME ONE trade paperback for only $9.99.
Many Image Comics creators are making special appearances for FCBD signings and events across the country, including but not limited to:
ALABAMA
Afua Richardson (GENIUS)
Sho'Nuff Comics – Tuscaloosa, AL
---
CALIFORNIA
Ed Brubaker (FATALE)
Collector's Paradise – Pasadena, CA
Gerry Duggan (THE INFINITE HORIZON)
The Comic Cellar – Alhambra, CA
11 AM-1 PM
Joshua Hale Fialkov (ECHOES, THE DARKNESS, THE LAST OF THE GREATS)
Collector's Paradise – Canoga Park, CA
Shane & Chris Houghton (REED GUNTHER)
Pasadena Public Library, Central Branch, 285 E. Walnut St., Pasadena, CA 91101
11AM-1 PM
Collector's Paradise – Pasadena, CA
2-4 PM
Jim McCann, Rodin Esquejo & Sonia Oback (MIND THE GAP)
Collector's Paradise – Pasadena, CA
Derek McCulloch (PUG)
The Escapist Comic Bookstore – Berkeley, CA
10:30 AM-1 PM
Comic Ink – Dublin, CA
2-6 PM
Ryan Ottley (INVINCIBLE)
Black Cat Comics – Milpitas, CA
Jeff Roenning, Dana Shukartsi, Jean-Paul Bonjour & Robert Love (ALPHA GIRL)
Illusive Comics & Games, Santa Clara, CA
10 AM-2 PM
Richard Starkings (ELEPHANTMEN)
The Comic Bug, – Manhattan Beach, CA
10 AM-4 PM
---
ILLINOIS
Tim Seeley (HACK/SLASH, WITCHBLADE)
CHALLENGERS Comics + Conversation – Chicago, IL
Mike Norton (IT-GIRL AND THE ATOMICS)
CHALLENGERS Comics + Conversation – Chicago, IL
---
INDIANA
John Tyler Christopher (WITCHBLADE, ARTIFACTS)
BlueMoon Comics – Lafayette, IN
---
IOWA
Phil Hester (THE DARKNESS)
Daydreams Comics – Iowa City, IA
---
MARYLAND
Filip Sablik (LAST MORTAL)
Cards, Comics & Collectibles – 100 Chartley Dr., Reisterstown, MD
11 AM-2 PM
---
MICHIGAN
Michael Moreci & Steve Seeley (HOAX HUNTERS)
Comics & More – Madison Heights, MI
12-5 PM
---
MINNESOTA
Mitch Gerads (THE ACTIVITY)
Comic Book College – Minneapolis, MN
12-5 PM
---
NEW ENGLAND (MA and NH)
Justin Jordan & Tradd Moore (THE STRANGE TALENT OF LUTHER STRODE)
Larry's Comics – Lowell, MA
9:30 AM-12:30 PM
Jetpack Comics – Rochester, NH
2-7 PM
---
NEW JERSEY
Mark Poulton (AVENGELYNE)
Adventureland Store – Voorhees, NJ
---
NEW YORK
Ron Marz (WITCHBLADE)
Excellent Adventures – Ballston Spa, NY
11 AM-1:30 PM
Comic Depot – Saratoga Springs, NY
2:30-5 PM
---
NORTH CAROLINA
Chris Burnham (OFFICER DOWNE, ELEPHANTMEN)
Ultimate Comics – Durham, NC
Chris Giarrusso (G-MAN)
Acme Comics – Greensboro, NC
Kevin Mellon (HEART)
Heroes Aren't Hard to Find – Charlotte, NC
---
OREGON
Steve Lieber (UNDERGROUND)
Cosmic Monkey – Portland, OR
2:30-3:30 PM
Things from Another World (Hollywood Branch) – Portland, OR
12-2 PM
Bridge City Comics – Portland, OR
4:30-6 PM
Brandon Seifert and Lukas Ketner (WITCH DOCTOR)
Things From Another World (Beaverton Branch) – Beaverton, OR
2-4 PM
---
TEXAS
Joe Eisma (MORNING GLORIES)
Zeus Comics – Dallas, TX
10 AM-5 PM
David Marquez (MAGDALENA)
Austin Books & Comics – Austin, TX
---
CANADA
Tyler Jenkins (PETER PANZERFAUST)
Alpha Comics – Calgary, Alberta
12-4 PM
---
UNITED KINGDOM
Christian Ward (INFINITE VACATION)
Gosh Comics – London, UK
12-4 PM
---