"BLOODSHOT ISLAND" Hunts Jeff Lemire & Mico Suayan in BLOODSHOT REBORN #15 – Coming in July!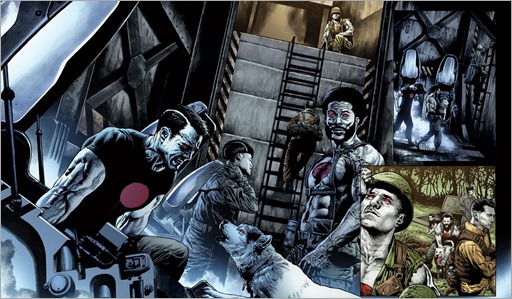 This July, Jeff Lemire and Mico Suayan come ashore on "BLOODSHOT ISLAND"…and begin the hunt for the sinister secret of DEATHMATE all over again!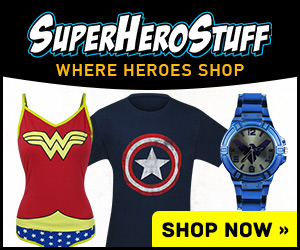 Here's your first look at "Bloodshot Island" in Bloodshot Reborn #15 by writer Jeff Lemire and artist Mico Suayan, on sale July 13th, 2016 from Valiant Comics.
Press Release
Valiant is proud to present your first look inside BLOODSHOT REBORN #15! On July 13th, it's sun, surf, and suicide missions when New York Times best-selling writer Jeff Lemire (THE VALIANT, Moon Knight) and Valiant-exclusive superstar-in-the-making Mico Suayan (BLOODSHOT REBORN) plunge headlong into the next shocking chapter of "BLOODSHOT ISLAND"! As the unstoppable killing machine codenamed Deathmate hunts Bloodshot and his fellow castaways from Project Rising Spirit, all hope hinges on surviving the seemingly endless cycle of tortures that this tropical paradise turned killing field has to offer…
Live. Die. Rejuvenate. Each day, Bloodshot and his predecessors awake to find themselves hunted by the unstoppable engine of destruction called Deathmate. And each day, they die…only to begin their escape once more after the nano-technology inside them repairs their fatal injuries. As Bloodshot and his new teammates begin to understand the brutal logic behind their seaside prison, will the biggest threat to their survival be the horrors that await in the jungle around them…or each other?
On July 13th, no one escapes "BLOODSHOT ISLAND" unscathed as Jeff Lemire and Mico Suayan bring a new dawn, a new day, and a new death to Valiant's nanite-enhanced powerhouse! Featuring covers by Tomas Giorello (Conan), Ben Oliver (The Multiversity), Stephen Segovia (Action Comics), Ryan Bodenheim (The Dying & The Dead), Darick Robertson (The Boys), and Jeff Lemire (A.D.: After Death), the summer's bloodiest blockbuster sets "BLOODSHOT ISLAND" ablaze, only in BLOODSHOT REBORN #15!
Plus: Coming this October, THE FUTURE OF VALIANT boils over in BLOODSHOT U.S.A. #1 (of 4) – a pivotal new standalone comics event from New York Times best-selling writer Jeff Lemire (Extraordinary X-Men) and Valiant-exclusive superstar Doug Braithwaite (ARMOR HUNTERS, Justice)!
In the tradition of THE VALIANT, the Big Apple turns blood red when Project Rising Spirit releases a top-secret contagion onto the streets of America's greatest metropolis: New York City. As mayhem engulfs Manhattan, Bloodshot must lead the most dangerous invasion ever waged on American soil and keep a runaway pandemic from toppling armies and governments…and threatening to destroy humanity itself.
Beginning in July with FAITH #1, THE FUTURE OF VALIANT will extend throughout 2016 with a total of seven epic series – each introducing an innovative array of new concepts and characters…and firmly establishing Valiant's place as the premier publisher of creative storytelling in comics today:
FAITH #1 by Jody Houser, Pere Perez & Marguerite Sauvage in July
GENERATION ZERO #1 by Fred Van Lente & Francis Portela in August
BRITANNIA #1 (of 4) by Peter Milligan & Juan Jose Ryp in September
BLOODSHOT U.S.A. #1 (of 4) by Jeff Lemire & Doug Braithwaite in October
HARBINGER RENEGADES #1 by Rafer Roberts & Darick Roberston in November
SAVAGE #1 (of 4) by B. Clay Moore, Clayton Henry & Lewis LaRosa in November
DIVINITY III: STALINVERSE #1 (of 4) by Matt Kindt & Trevor Hairsine in December
BLOODSHOT REBORN #14 (NEW ARC! "BLOODSHOT ISLAND" – PART 1)
Written by JEFF LEMIRE
Art by MICO SUAYAN
Cover A by TOMAS GIORELLO (APR162027)
Cover B by BEN OLIVER (APR162028)
Cover C by KANO (APR162029)
Cover D by STEPHEN SEGOVIA (APR162030)
Valiant x CGC Variant by CLAYTON HENRY (APR162031)
Interlocking Variant by RYAN BODENHEIM (APR162032)
Variant Cover by DARICK ROBERTSON (APR162033)
B&W Sketch Variant by TOMAS GIORELLO (APR162034)
Valiant Linewide Variant by JEFF LEMIRE (APR162035)
$3.99 | 32 pgs. | T+ | On sale JUNE 29 (FOC – 6/6/16)
BLOODSHOT REBORN #15 ("BLOODSHOT ISLAND" – PART 2)
Written by JEFF LEMIRE
Art by MICO SUAYAN
Cover A by TOMAS GIORELLO (MAY161875)
Cover B by BEN OLIVER (MAY161876)
Cover C by STEPHEN SEGOVIA (MAY161877)
Interlocking Variant by RYAN BODENHEIM (MAY161878)
Variant Cover by DARICK ROBERTSON (MAY161879)
Variant Cover by JEFF LEMIRE (MAY161880)
$3.99 | 32 pgs. | T+ | On Sale JULY 13 (6/20/16)