Edgar Rice Burroughs, Inc. and Dynamite Entertainment Join Forces to Relaunch Original "John Carter: Warlord of Mars"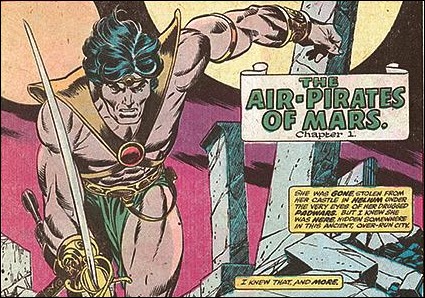 Edgar Rice Burroughs, Inc. Reacquires Comic Book and Comic Strip Rights from Disney Subsidiary Marvel Entertainment
Dynamite to Create New Content and Publish Library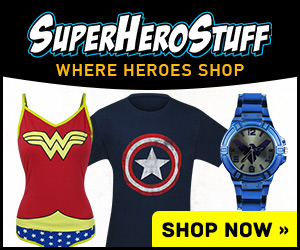 Dynamite Entertainment has acquired the comic book and comic strip publishing rights to the John Carter universe, Lord of The Jungle, and other archival material from Edgar Rice Burroughs, Inc., which were previously held by Walt Disney Pictures and Marvel Entertainment.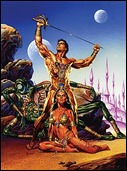 Press Release
Edgar Rice Burroughs, Inc., the company founded by the author to protect and maintain his literary creations, and one of the comics industry's leaders, Publisher Dynamite Entertainment, announced today a comprehensive agreement that will see the return of Burroughs' original "John Carter: Warlord of Mars" to the pages of comic books, comic strips and graphic novels. The agreement allows for the world-wide publication of the John Carter universe as well as "Lord of the Jungle" and ERB's library of archival material.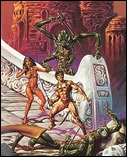 The initiative comes on the heels of the reacquisition of comic book rights by Edgar Rice Burroughs, Inc. that had been held by Walt Disney Pictures and its Marvel Entertainment subsidiary, as well as a recent legal settlement with Dynamite that cleared the way for Dynamite to introduce key characters and plot elements from the John Carter backstory that were, until now, absent from recent comic book interpretations.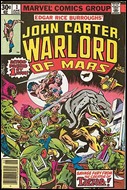 "It was important to us that we reacquire the comic book and comic strip rights from Marvel Entertainment so we could reintroduce them in the market place. We're excited to see the exploits of Edgar Rice Burroughs' first science fiction adventure hero brought to life in their fullness by the passionate creative talents assembled by the folks at Dynamite," said James Sullos, President of Edgar Rice Burroughs, Inc. "They're true fans – and it shows on every page and in every idea they've shared with us. Now fans everywhere will be able to appreciate the original adventure stories that later spawned Flash Gordon, Superman, Star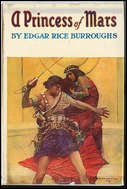 Wars and Avatar."
"Working together with Jim and the team at ERB, we will be taking the worlds of John Carter and The Lord of the Jungle publishing initiatives to a new level. There's a rich history, and an incredible amount of archival material in the ERB library, and we're looking forward to bringing it to the fans around the world. This is the beginning of a great relationship." states Nick Barrucci, CEO and Publisher of Dynamite Entertainment. "I can't express how happy and excited everyone at Dynamite is to be working hand in hand with everyone at ERB, Inc".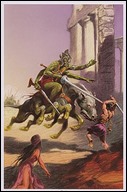 John Carter debuted in 1912 as the lead character in Edgar Rice Burroughs' first novel, serialized as Under the Moons of Mars in the pulp magazine, The All-Story, and later published as a complete novel retitled A Princess of Mars. The character excited the imagination of readers and quickly imprinted onto the public psyche. As many literary and popular culture scholars attest, John Carter served as the template for a litany of adventure heroes to follow, from Flash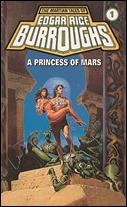 Gordon, Buck Rogers, and Superman to the Jedi knights of Star Wars fame and most recently, Avatar.
In planning for a late 2014 relaunch, Dynamite Entertainment confirmed that the new comic book series will be titled John Carter: Warlord of Mars. Dynamite will also republish other John Carter assets, going back as far as the early 1940s comic strips by John Coleman Burroughs, the son of Edgar Rice Burroughs.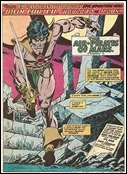 In a related development, new John Carter: Warlord of Mars "adventure strip" episodes will make their online debut in early summer as part of the Edgar Rice Burroughs Digital Comic Strip Service at www.edgarriceburroughs.com/comics. Written by the legendary Roy Thomas, with art by Pegaso (Rodolfo Perez Garcia) of Mexico City, this series will invite readers to accompany John Carter and his compatriots on exciting adventures that delve into the rich, storied history of Barsoom (as the inhabitants of Mars refer to their planet). As with the other nine series featured on the site, including Tarzan and Carson of Venus, the first four episodes of John Carter: Warlord of Mars will be viewable at no charge.
– The Comic Book Critic