Ashe Rogue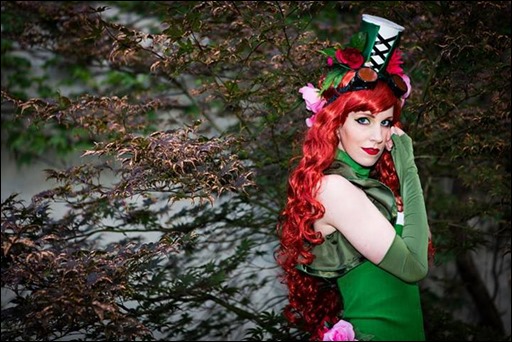 There are many talented models and performers who bring their love & enthusiasm to dressing up as their favorite characters. Comic Book Critic will occasionally showcase a performer who embodies this spirit of cosplaying.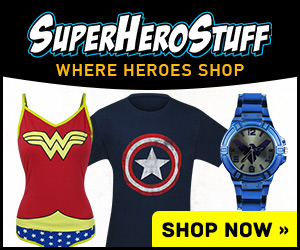 Whether it's creating the costume from scratch, altering the appearance of an existing one, or just getting into character, these performers spend a lot of time and effort on their craft. As much as we all enjoy seeing our favorite fictional characters represented in real life, let's not forget the behind-the-scenes work that goes into that portrayal.
One thing is for certain though, their love of cosplaying shines through in their work.
The Comic Book Critic Featured Cosplayer Interview is:
Ashe Rogue From Toronto, Canada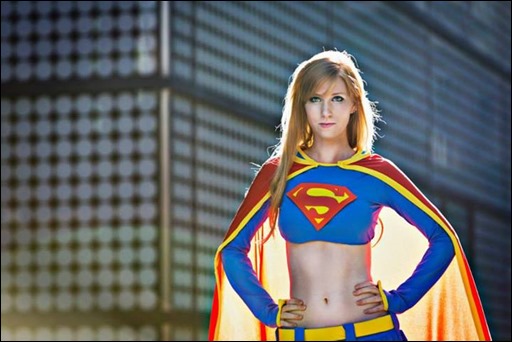 Ashe Rogue is a self described geek at heart who began cosplaying back in 2006; She's a dancer, musician, cosplayer, gamer, artist, & costume maker among many other things.
Ashe has cosplayed many characters over the years and no matter who she's portraying, she always manages to look great in each role. As a founding member of The Geekettes, she and her friends keep busy with their craft year round. We were lucky enough to catch up to Ashe when she had some free time to do an interview.
When did you begin cosplaying?
I first started cosplaying when I was 16, back in 2006.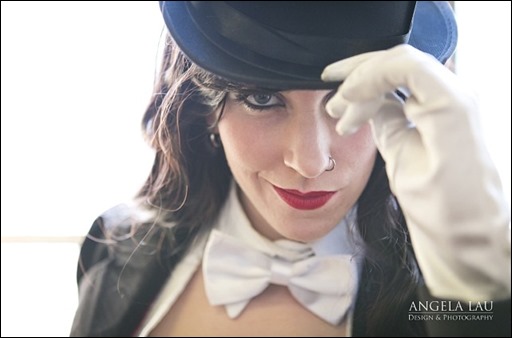 What made you decide that it was something that you wanted to do more often?
I completely fell in love with the atmosphere. Being surrounded by amazing, talented and like-minded people at such a young age was inspirational, it became a goal of mine to excel at it.
Have you made all of your own costumes and is there one which you're most proud of?
Yes, I have made all of my costumes. I honestly wouldn't wear a costume if I wasn't proud of it.
Have you ever done any modeling work outside of cosplaying?
I tried to! But posing outside of a costume feels weird to me… Can't really explain that one!
Which are some your favorite costumes?
Supergirl, Zatanna, Emma Frost, Lady Deadpool, Black Canary, Rikku to name a few.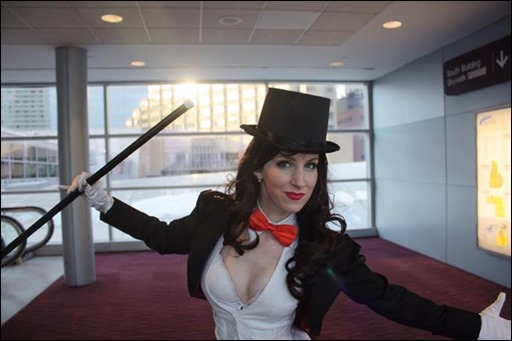 Did you grow up playing video games or reading comics and do you still do those things? If you read comics, which are some of your all time favorites?
I grew up playing video games, it was a big part of my childhood watching some of my family members play and wanting to try it to.
Comics came later in life, after my discovery of Manga in the 6th grade. Some of my favourite comic titles would have to be Lady Mechanika, Robyn Hood, Fathom, Justice League Dark, Quiver to name a few. My family played Warhammer, video games, they were avid readers, and I grew up watching Star Wars, Star Trek, Dr Who and so many more!
Needless to say, I came by it honestly. Hahaha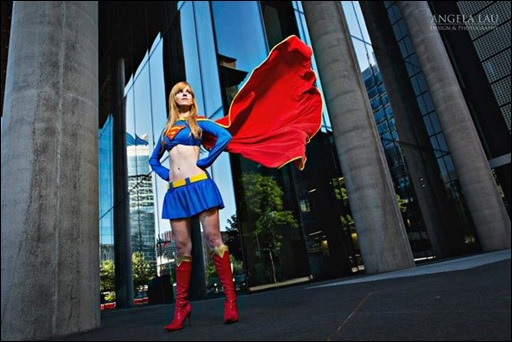 Did you consider yourself a nerd or geek while growing up and do you now?
I didn't, other people did though.
I grew up being interested in all of this stuff and was more likely to be found in the art room drawing out my own comics, playing Pokémon, or reading than I was outside playing soccer. Because of that, a lot of people bullied me. But now all my interests are mainstream, it's quite fascinating!
We should just throw in Felicia Days "I'm the one that's cool" song lyrics here.
What's the geekiest thing you're proud to admit?
I own an embarrassing amount of geeky paraphernalia in clothing, among other things. But for this particular section, I will talk about the fact that I collect leggings, from tetris to ones with Captain America's shield. Last time I counted I had around 35 pairs of leggings but I know I've purchased more since then.
I also own around 300 manga, but had to stop buying them because I ran out of room. I also have a thing for weaponry and it is my goal to own all of my favourite replicas.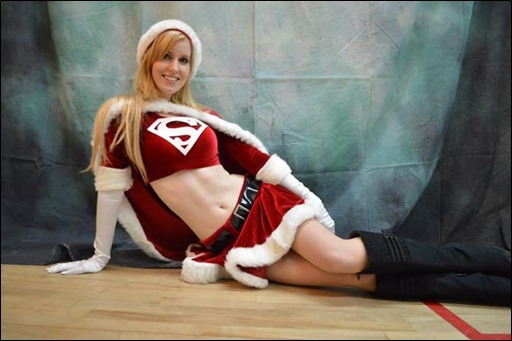 I see that you're a member of the Geekettes, how did that come about and how long have you been together as a group?
I pretty much forced the poor girls to join forces with me.
We formed our group last year and started with recording segments on YouTube! We debuted our first group costumes at Fan Expo here in Toronto. Ray Retro is a seasoned cosplayer alongside myself and Manda Cowled is new to the scene and is doing an amazing job!
You say that you're more of an introverted person, does that make cosplaying more difficult to do?
Yes and no! Conventions are where I am comfortable, and cosplay is an amazing creative outlet. It helps going with people you are comfortable with, but I use cosplay and conventions as a way to push past that boundary.
What keeps you wanting to do more in terms of cosplaying?
I want to see what I am capable of making. I have this goal of creating power armour for a few of dream cosplays, and I am incredibly excited to try and make them one day.
What's one of your most memorable moments?
Not one, but I love child cosplayers. They melt my heart. I could be exhausted, hungry and leaving the convention, and get stopped for a picture by a child, and I am instantly happy.
Have you ever had any bad experiences with people at conventions or while cosplaying?
A few yes. Just some touchy people, cosplay is not consent!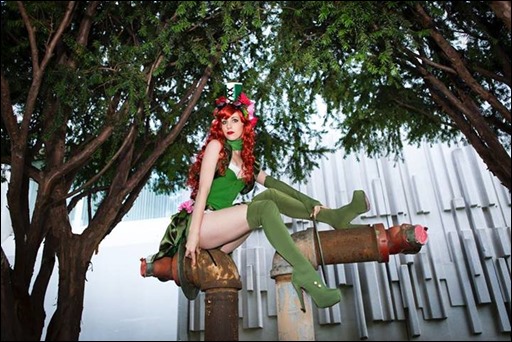 How do you find the time to create your costumes and do other things you enjoy?
I make the time. I actually enjoy the process of making my costumes, so I will get home from work and spend a few hours on something. I love the arts in general, so I often go outside and do life drawing based off of the crowd, photography, music and the like. I love to go for runs and am a dancer, I am also an archery fan and love to do that!
Do you have any cosplayers that you look up to?
I have quite a few! Yaya Han because she's so incredibly talented. Kamui Cosplay because she makes amazing armour and of course Jessica Nigri, who is a talent on her own, but is also a prime example of the power of social media.
What are your thoughts on how the hobby has been progressing?
I am very interested to see how far cosplay will go.
When I first started, there were very few people in my neck of the woods that did it, and now it has EXPLODED. I love to see what people can make and now few people have made a career out of it.
What advice do you have for a novice cosplayer?
Don't be afraid to try! You never know if you can make something until you try.
If you could change anything since you started, what would it be?
Nothing too deep, but I wish I started going to American conventions earlier and more frequently. They are by far my favourite. They are so well organized.
Do you have any new costumes that you're working on, that you can tell us?
I have quite a few lined up to debut within the next year, but having said that, some of them are in fact secret. I will tell you that I am working feverishly on a femme Green Arrow, a Pokémon, Starfire, and Death.
What does the future hold for you?
I want to bring cosplay into a positive light, and to inspire people to do the same. I would love to start a cosplay modeling agency and do promotion for people who don't know how.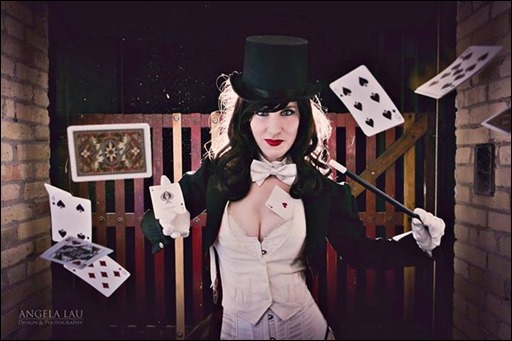 Ashe, Thank you for taking the time to give us this interview and we look forward to seeing more of your awesome work in the future!
You can find more of Ashe Rogue's cosplay and costume work below:
Ashe Rogue Links
The Geekettes
AsheRogue.com
Photo Credits
Angela Lau | Design & Photography
Share your thoughts about Ashe Rogue and her work in our comments section below!
– The Comic Book Critic