Anna S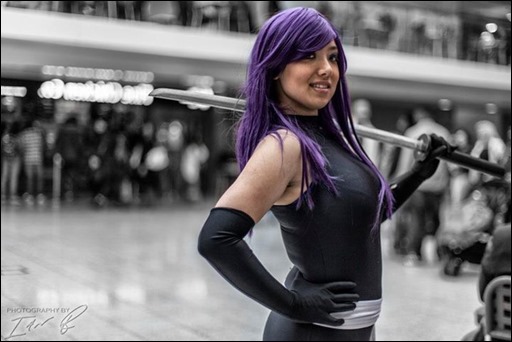 There are many talented models and performers who bring their love & enthusiasm to dressing up as their favorite characters. Comic Book Critic will regularly showcase a performer who embodies this spirit of cosplaying.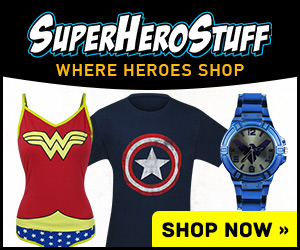 Whether it's creating the costume from scratch, altering the appearance of an existing one, or just getting into character, these performers spend a lot of time and effort on their craft. As much as we all enjoy seeing our favorite fictional characters represented in real life, let's not forget the behind-the-scenes work that goes into that portrayal.
One thing is for certain though, their love of cosplaying shines through in their work.
The Comic Book Critic Featured Cosplayer Interview this week is:
Anna S from London, UK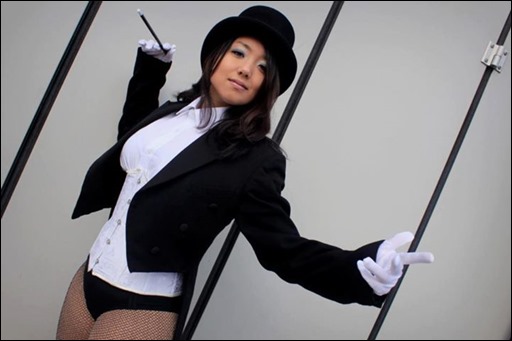 Anna S is an avid comic book reader and gamer who has been cosplaying for roughly 2 years now and she has a great lineup of costumes that she cosplays at conventions all around the UK. Even though Anna is a wonderful cosplayer, it's just one of her many talents which also include writing and photography.
She has worked on a comic series which she hopes to get off the ground soon and is constantly striving to improve her sewing skills to make better cosplays. We think she's already made some excellent ones.
Read on to find out more about Anna S and her cosplay…
How long have you been cosplaying and what was your first costume?
I tell people I have been cosplaying for 2 years because that's when i properly started getting into Cosplay with a Ms. Marvel costume. But my first ever costume was a Penelo costume around 3 years ago that was so bad, I try to erase it from memory.
What made you decide cosplaying was something you wanted to pursue?
I used to go to Cons with my friends and they would dress up and I would take photos. Eventually I got bored of taking photos and decided I wanted to give it a go. After my first year of struggling with sewing machines and trying to figure stuff out, i really started to enjoy it. It has become a bit of an escape for me and something that I just want to keep doing.
Other than cosplaying, do you do any model work?
No
Do you make and/or design all of your costumes?
I try and make as much as possible. There are a few costumes (like Zatanna) where I have bought pretty much all of it because I just don't have the skills to make stuff like tail coats. I a lot of what I wear, like spandex suits, you just can't buy so I make them myself.
Which was the most challenging or satisfying to make?
That is a toss up between 2 costumes. Either my Battlestar uniform, which was the first non-stretch costume I ever made, or my Marvel Now Psylocke costume which is still in progress. The Psylocke has about 40-50 panels on it if i want to make it completely accurate and it's just a pain to figure out the panels and how they all fit together.
Who are some your favorite characters?
Some of my favourite characters in general are Psylocke, Rogue and Storm (X-Men), Sue Storm (Fantastic Four), Huntress, Black Canary (Birds of Prey), and Ms Marvel. My favourites to cosplay are Psylocke and Zatanna.
Do you have any writing projects that you're currently working on?
I'm currently working on a few things. I have a comic series written, which I'm hoping to get onto Kickstarter in the next year or so. I've also got a Fantasy series written called the God Slayer trilogy which is sort of a young adult kind of book, geared towards people who read things like Trudi Canavan's books or Maria V Snyder's books. I just need to get the front cover of that sorted and that will be going up as an e-book for now.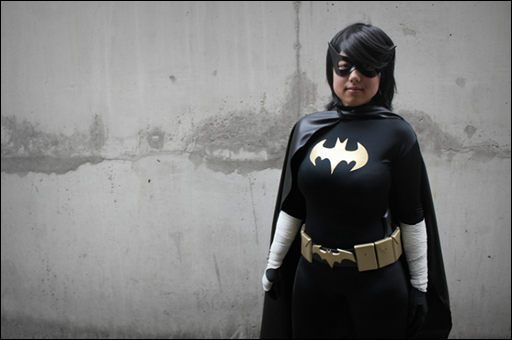 Have you ever attended any Comic Cons outside of the UK?
I haven't, but I do really want to go to some. I was supposed to go to DragonCon but a few financial things popped up and I had to pull out.
As a photographer, do you photograph other cosplayers and does that make you more aware of your posing for others?
I do sometimes photograph other cosplayers but portrait photography isn't my strong point. It does make me well aware of posing for others, though, and how useless some photographers can be at giving instruction. It bugs me that some photographers put a cosplayer in front of a camera expecting them to know exactly what to do and how to interact with their surroundings, when the cosplayer can't see what is through the lens. So the photographer has to tell them how to stand, where is the best foot placement, and which bit of the body is in the shot or not.
Do you read comics or play video games and which are your favorites?
I read a lot of comics but my favourites are definitely X-Men and Fantastic Four. I would like to say Birds of Prey but that was before the reboot. I'm also a little bit addicted to Fallout New Vegas and Guild Wars 2 at the moment, but I love the Final Fantasy series.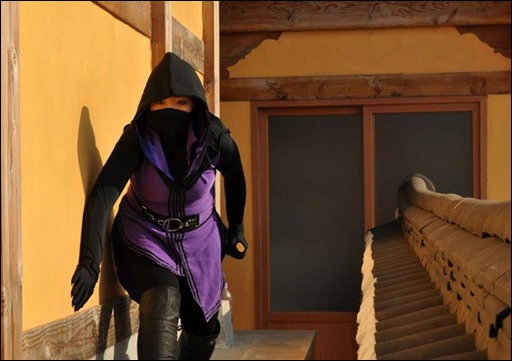 Are there things that bother you when cosplaying?
As I mentioned above, photographers who don't seem to know what they are doing, the inability to pee in half my costumes, and the attitude of some cosplayers who think they are better then everyone else. There is nothing wrong with knowing that you are good but I don't like it when cosplayers get snobby about it.
What do you enjoy the most about it?
My favourite part of cosplaying is putting the costumes together. Going fabric shopping, deciphering patterns and sewing the thing and watching it slowly come together.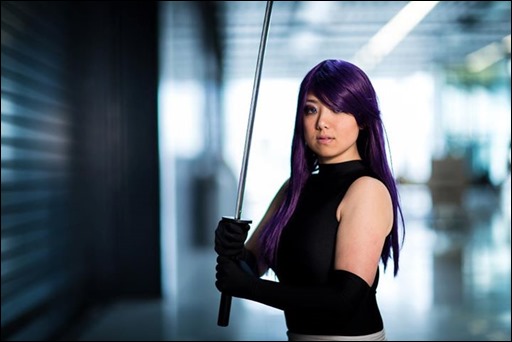 What's one of your most memorable moments while cosplaying?
It has to be on my 25th Birthday. Stan Lee was attending the con I was at and I had just gotten a comic signed by him. I was asked to hang behind for a moment for a photo. I assumed it was for a website or something. The next thing I knew Stan Lee had his arm around me and I was getting photos taken with him by everyone.
Best birthday present ever!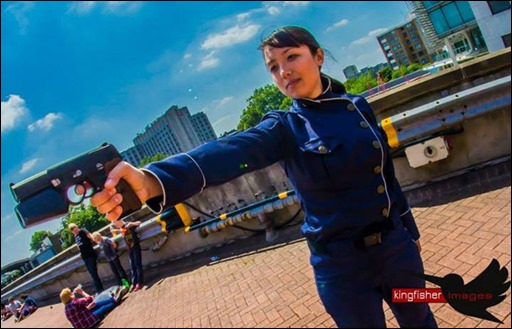 Who are some of your favorite cosplayers?
I hugely respect Riddle and Yaya Han. A lot of people give me stick for liking Yaya but she's an amazing seamstress. Her costumes are flawless and she strives for perfection, which are all things I would like to do as well but I just haven't been into cosplay as long as her, so I'm really not at her level yet.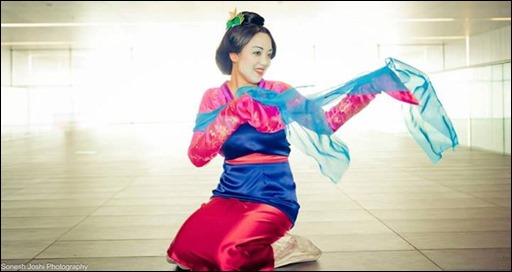 How has cosplay changed since you began?
It's become a lot more mainstream in just the few years I have been doing it and there's been a surge in how popular people are with Facebook pages and stuff. People are getting airs and thinking that they can be superstars through cosplay, but besides that, it's not really changed too much.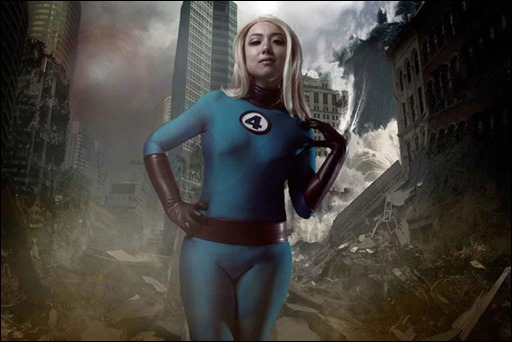 What are some new costumes that you're planning on working on in the future?
I would love to make Mulan from Once Upon A Time, Mako Mori from Pacific Rim, Sailor Mars from Sailor Moon and Belle from Beauty and the Beast, but who knows when I'll get round to those.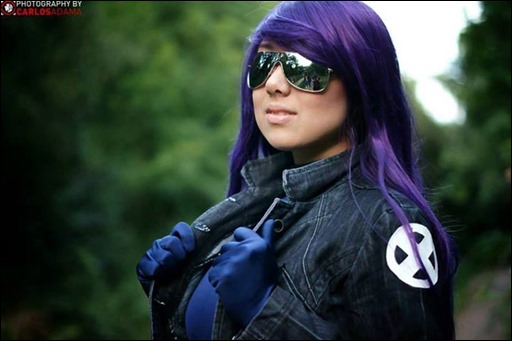 What advice do you have for someone just starting out?
Just keep asking questions.
If you see something that someone has done that looks interesting, just go up to them and ask how it was done. Most people are really happy to share skills and knowledge.
Just keep asking.
If you could change anything since you started, what would it be?
Honestly, I wouldn't change anything that I have done since I started, because if I did, I wouldn't be where I am today, and I'm pretty happy with where I am.
What does the future hold for you?
At the moment I'm learning to sculpt and next year I hope to start with some leather working – so that should be fun (and expensive). For now I'm hoping to do some more original or inspired stuff. Also, I'm going to try and make more elaborate or detailed costumes so that it pushes my sewing skills and so that my costumes have a bit more of a 'wow' factor.
In a few years time I hope to do some projects with my brother, who is a photographer, but that will be once I've got my head around my new skills.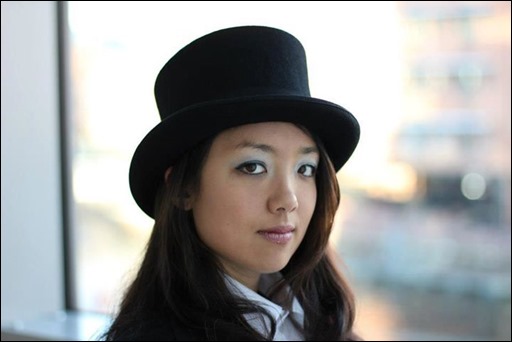 Share your thoughts about Anna S in our comments section below!
Anna S Links
You can see more of her work at these links:
Photo Credits
Sonesh Joshi Photography
Ian Blyth
Emma Sheldrick
– The Comic Book Critic