Alouette Cosplay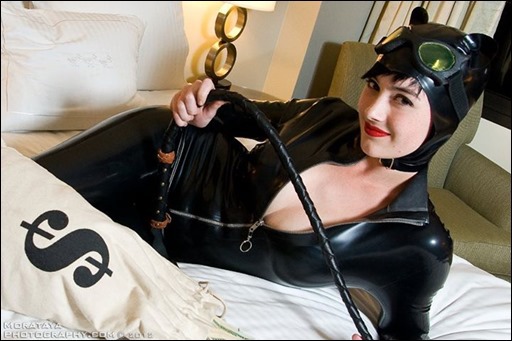 There are many talented models and performers who bring their love & enthusiasm to dressing up as their favorite characters. Comic Book Critic will regularly showcase a performer who embodies this spirit of cosplaying.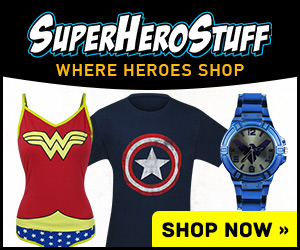 Whether it's creating the costume from scratch, altering the appearance of an existing one, or just getting into character, these performers spend a lot of time and effort on their craft. As much as we all enjoy seeing our favorite fictional characters represented in real life, let's not forget the behind-the-scenes work that goes into that portrayal.
One thing is for certain though, their love of cosplaying shines through in their work.
The Comic Book Critic Featured Cosplayer Interview this week is:
Alouette Cosplay from Florida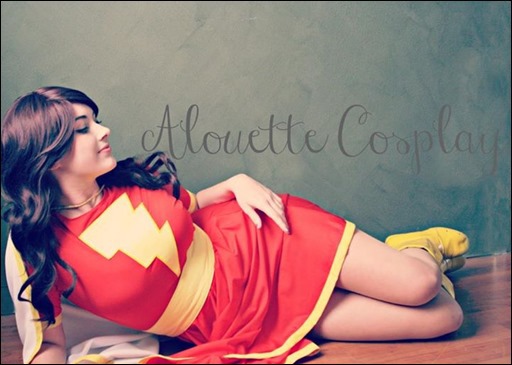 The talented and prolific Alouette Cosplay from south Florida has been honing her craft for almost 5 years now and she sure does a great job.
Her costumes are as well crafted as they are numerous! There were so many to chose from, that we had a tough time selecting which ones to use for our feature.
Luckily, Alouette allowed us an interview about her cosplaying.
How long have you been cosplaying and do you remember your first costume?
I have been cosplaying for just about 5 years now! I do remember it, it was a really horrid Mello cosplay from Death Note… I remember I was just so excited to go to a con I didn't care that I was in a walking cast and wore it anyways!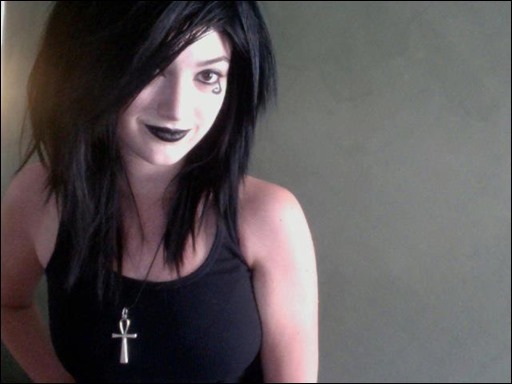 What made you decide cosplaying was something you wanted to do?
After being on DeviantArt for quite a few years, I started to see a lot of really gorgeous and impressive costumes from series' I loved. I decided that "hey, why don't I try that out at my first convention?" After that con, I was hooked! I found it was a great way to express my love for series and characters, meet like-minded people, and just generally have a great time!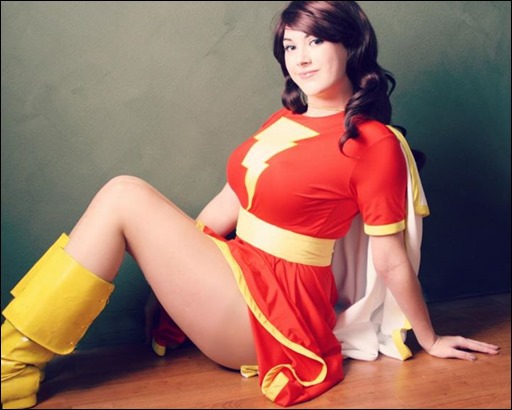 Do model other than cosplaying?
I don't, though one day I would love to get into it! I am really into pin-up style and retro fashion, so I would love to do a lot with that… hopefully one day!
Do you make and/or design all of your costumes?
For the most part, yes! Some costumes have really simple pieces that are easier to just buy/alter, but for the most part, I love to craft my own costumes! Design wise, I try to stick as close to the character/reference art, but sometimes I do take little artistic license with them!
Which was the most challenging to make?
Hmmmm, I would have to say Princess Tutu! Rhinestoning comes naturally to me after years of dance, but constructing a tutu is never easy!
Besides that, Aria T'loak from Mass Effect was quite the challenge due to the design! Likewise I'm working on another Mass Effect cosplay, Tali'Zorah, and it is proving to be quite the challenge too!
Who are your favorite characters?
Batwoman, Catwoman, Black Canary, The Question(s), pretty much all of the Mass Effect crew, Sailor Uranus and Neptune, Utena, Black Adam… man I could go on and on! Honestly its really hard to pick favorites, I keep thinking of more characters I love!
Which character do you find the easiest to portray and which is the most challenging?
I think Catwoman is easiest for me. We have a similar personality and I'm the most comfortable in a catsuit and having an excuse to flip around as weird as that is!
The hardest would have to be any character that is super serious really! I find it hard not to naturally smile a lot, especially in cosplay! Usually I am just so excited to be wearing/cosplaying that character and hanging out with people, that I can't help but laugh and smile all the time, making it hard to be serious in photos and such!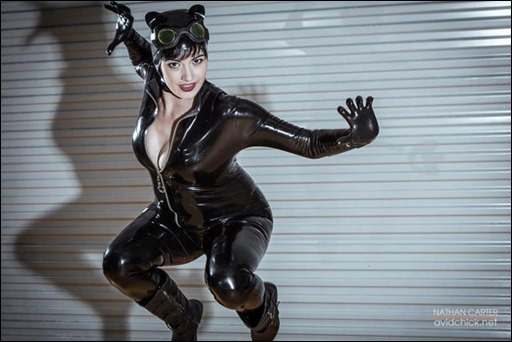 What do you like to do in your spare time?
I love to read! Other than that, playing video games and watching horror movies are up there too! Then, of course, I love to dance as well!
Do you read comics regularly and which are your favorites?
Yes! Wednesdays are the best days!
Recently I've been reading Batwoman, Wonder Woman, Swamp Thing, some of the Before Watchmen titles, Injustice, and a few others here and there! A lot of my all time favorite titles are older runs though for example 52, Elegy, Sandman, etc.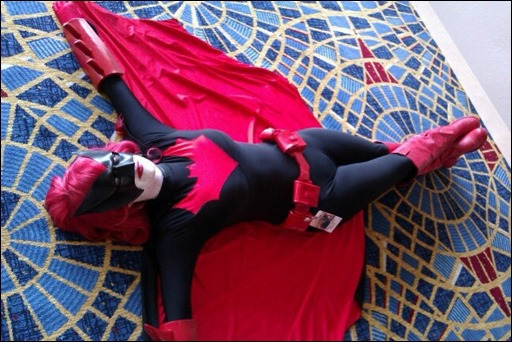 You seem to be genuinely having fun, is there anything that really gets on your nerves about cosplaying in public?
Not really! I am a super easy going person, and it takes a lot for me to get upset.
Though, any kind of rudeness honestly. I'm very lucky to have not run into many rude people in my time cosplaying, since generally I've only met awesome people through it; but, the few disrespectful people would be what gets on my nerves!
On the other hand, what do you enjoy the most about it?
Cliché as it is, I really just enjoy the people and friends! I'm generally not a very social person, so conventions and cosplay meet ups are the greatest way for me to meet friends! I also just love being able to relax and have a few hours to not worry about the "real world", haha!
Have you ever attended a convention as a guest or judge and which are your favorites?
I have actually never attended a convention as a cosplay guest or judge, but maybe one day, that would be a lot of fun! I usually attend 4-5 conventions on average (with a few small ones or one day ones sometimes as well) and my all time favorite has to be Dragon*Con with MegaCon as a close second.
What's one of your most memorable moments while cosplaying?
One of my most memorable experiences would have to be when I was cosplaying Aria at this past Megacon. I was waiting for some friends and sitting on a couch, and just the "in-game" jokes random people would say in passing were great, plus one guy just decided to sit next to me and discuss the plots/theories/strategies/everything about Mass Effect 1, 2 & 3! It was completely random and unexpected, but I really enjoyed our convo!
What are the upsides/downsides to appearing at cons?
I would say that the upsides greatly outweigh any downsides! For me the only downsides are just the time and money it takes sometimes! Everything else is positive!
What's one of your least memorable moments while cosplaying?
One time I was just really sick, and being miserable in costume is the worst feeling!
Who are some of your favorite cosplayers?
I would have to say all of my friends and local cosplayers in my community are my favorites. Being able to see all their progress and completed costumes in person is always so inspiring, I really look up to them!
Plus I'm part of a Mass Effect cosplay group on Facebook, and seeing all of that work is incredible!
How has cosplay changed, if at all, since you began?
I think the only thing is a lot of people seem to have a Facebook page now, which I think is a great thing! Besides that, I don't think it has changed too much, but then of course I have only been cosplaying for five years, which is a pretty short time!
How much time do you invest in it?
Because of work, I don't have a lot of free time, so during con season pretty much 90% of my free time goes to costuming!
What advice do you have for someone just starting out?
Just hang in there!
I know sometimes the cosplay scene can seem overwhelming (sometimes I still feel that way!) but as long as you are having fun, that is all that matters! I know it is said a ton, but its the best advice I ever got and could give.
Never let anyone put you down for doing something you love and enjoy!
If you could change anything since you started, what would it be?
If there was a way to magically give myself more funds, that would be it haha! Besides that I wish I would of gotten into comic/video game cosplays sooner, but I didn't have the confidence in my body until recently!
What does the future hold for Alouette Cosplay?
A lot more cosplay of course!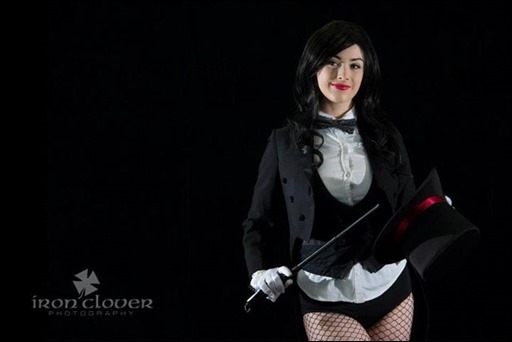 Alouette, thanks for taking the time out of your busy schedule to give us this interview. I'm sure your fans can't wait to see what's coming up next with your cosplaying!
Booking & Contact
If you would like to book Alouette Cosplay for your convention or want to contact her for modeling opportunities, you can do so through her email at [email protected].
Alouette Cosplay Links
You can see more of her work at these links:
Photo Credits
Davin Ng
Share your thoughts about Alouette Cosplay in our comments section below!
– The Comic Book Critic