Bestselling author Chuck Palahniuk To Publish His First Ever Coloring Book For Adults with Dark Horse Books This Fall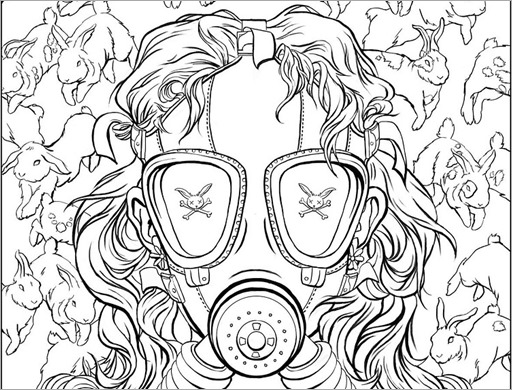 With Illustrations by Acclaimed Comic Book Artists
Including Lee Bermejo, Duncan Fegredo, Joëlle Jones and More!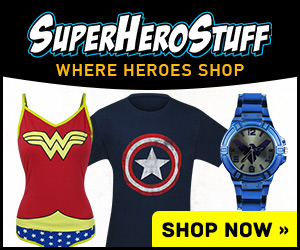 Bait: Off-Color Stories for You to Color, the first-ever adult coloring book by bestselling novelist Chuck Palahniuk, will go on sale in October 2016 from Dark Horse Books.
Here's a quick look at a few pages from this unusual collaboration!
Press Release
New York Times bestselling novelist and cultural trickster Chuck Palahniuk will publish Bait: Off-Color Stories for You to Color, his first ever coloring book for adults, this fall with Dark Horse Books. Bait will be both the coloring book debut and the second short story collection for Palahniuk, author of Lullaby and Fight Club. The book will contain eight bizarre tales, illustrated in detailed black and white by Joëlle Jones (Lady Killer), Lee Bermejo (The Suiciders), Duncan Fegredo (Hellboy), and more. Each story is paired with pieces of colorable original art, nearly 50 in all. Dark Horse Books will publish Bait: Off-Color Stories for You to Color as a 8.5 x 11 inch hardcover album, with uncoated and white interior paper stock, accompanied by a cover illustrated and colored by Duncan Fegredo and designed by Nate Piekos.
Palahniuk's short stories are provocative and not for the faint of heart. (His public readings are notorious for making audience members pass out.) Bait continues in that vein with stories about:
● A passenger on the Titanic who finds a surgical solution to the obstacle of "women and children first"
● A Hollywood star, whose fading brand faces a viral (and scatological) internet campaign
● An animal psychic who coaxes a statement from a fish that witnessed a political assassination
● Increasingly terrible birthday gifts that place a girl at the center of an extinction-level event
The stories will be illustrated by Lee Bermejo, Kirbi Fagan, Duncan Fegredo, Alise Gluškova, Joëlle Jones, Steve Morris, Tony Puryear and Marc Scheff. Palahniuk invites readers to collaborate on this unprecedented and unique hardcover edition: "Maybe between your colors, the artists' designs, and my stories we can create something that endures. Something worth keeping. Let's create a well-bound book that can sit on any shelf and be available for a new generation to discover and enjoy."
Bait will be Palahniuk's second high profile release with Dark Horse Books. This month will see the publication of the author's graphic novel debut, Fight Club 2, illustrated by Eisner Award winning artist Cameron Stewart, lettered by Nate Piekos and colored by award-winning Dave Stewart and accompanied by a cover by David Mack. Originally published as a 10 issue comic book miniseries, the bestselling Fight Club 2 was published to widespread critical acclaim and media attention. Fight Club 2 takes place ten years after the events of the bestselling novel. Tyler Durden lives… a mundane life. A kid, a wife. Pills to keep his destiny at bay. But it won't last long, the wife has seen to that. The time has come . . . Rize or Die. The official book trailer can be viewed at http://www.youtube.com/watch?v=ofAxrjemo6E.
To mark this occasion, there will be a 10-city national signing tour, Palahniuk's first "signing tour" since Tell-All in 2010:
Tuesday, June 28 at – Seattle
4:00pm – Elliott Bay Book Company, 1521 Tenth Avenue, Seattle, WA 98122
Thursday, June 30 – San Francisco
4:00pm – The Booksmith, 1644 Haight Street, San Francisco, CA 94117
Saturday, July 2 – Los Angeles
3:00pm – Book Soup, 8818 Sunset Blvd., West Hollywood, CA 90069
Tuesday, July 5 – St. Louis
3:00pm – Left Bank Books, 399 N. Euclid Ave.St. Louis, MO 63108
Thursday, July 7 – Ann Arbor
4:00pm – Nicola's Books, 2513 Jackson Avenue, Ann Arbor, MI 48103
Saturday, July 9 – Louisville
3:00pm – Carmichael's Bookstore, 2720 Frankfort Avenue, Louisville, KY 40206
Monday, July 11 – New Orleans
5:00pm – Garden District Book Shop, 2727 Prytania Street, New Orleans, LA 70130
Wednesday, July 13 – Durham, NC
4:00pm – Regulator Bookshop, 720 Ninth Street, Durham, NC 27705
Friday, July 15 – New York City
5:00pm – The Strand Bookstore, 828 Broadway at 12th Street, New York, NY
Sunday, July 17 – Boston
2:00pm – Brookline Booksmith, 279 Harvard Street, Brookline, MA 02446
Director Andy Mingo, producer Josh Leake and Palahniuk are currently crowdsourcing funding to adapt Palahniuk's novel Lullaby via Kickstarter. Palahniuk will co-write the screenplay.
Bait: Off-Color Stories for You to Color (978-1-50670-311-4) will go on sale in both comic book stores and bookstores on October 26.